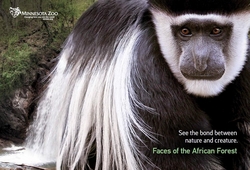 To highlight this relationship, our work literally combines photographs of the animals and the African landscapes from which they come.
Minneapolis, MN (PRWEB) June 5, 2010
Illustrating the Minnesota Zoo's tagline, "Changing how you see the world," advertising partner Preston Kelly has just launched a campaign for the Zoo's new exhibit, "Faces of the African Forest"--and perspective plays a major role. Just as the exhibit allows visitors to get a new close-up perspective on some very curious looking animals, Preston Kelly's latest effort also piques viewers' curiosity and begs them to question what they see.
"This magical Zoo exhibit is literally built in and around the roots of a massive African Fig Tree and revolves around the animals' relationship with their surroundings," said Chris Preston, Creative Director at Preston Kelly. "To highlight this relationship, our work literally combines photographs of the animals and the African landscapes from which they come."
No matter the medium--whether a print ad, television spot, outdoor board or online banner--the campaign features the black-and-white, high-flying colobus monkey as one of its marquee stars. The television commercial challenges audiences to question how they see the world by asking them whether the monkey resembles an old history professor, a hairy ninja or a bad dinner guest. Aiming to change how audiences see outdoor advertising, Preston Kelly also created a billboard that includes a two-dimensional colobus monkey climbing up the pole as if it were a tree trunk. In addition to the colobus monkey, digital banners also star a white-goateed De Brazza's monkey, complete with a quiz that challenges people to determine whether the animal is an old hippie, a curious alien or a threatened primate.
Preston Kelly has a history of crafting noteworthy advertising on behalf of the Minnesota Zoo. Last year's campaign for the Zoo's "Africa!" exhibit earned the agency nods in several prestigious advertising competitions, including the Magazine Publishers of America's Kelly Awards and the One Show. To boot, the campaign was selected by the O'Toole Awards for Public Service Excellence and then for the Award of Excellence by Communication Arts, where it also appeared in its 50th Advertising Annual. But perhaps the "Africa!" campaign's greatest achievement is that it contributed to record-breaking attendance to the Zoo.
About Preston Kelly
Preston Kelly is a full-service, independent agency that creates Iconic Ideas for its clients, including financial services, insurance, restaurant, consumer packaged goods, outdoor recreation, retail and gaming. In 2009 Preston Kelly was an O'Toole finalist, selected for the Communication Arts advertising annual and Webpick of the week, and received a Gold Effie--the top marketing award based on communications that lead to outstanding results. Preston Kelly is a member of Worldwide Partners, the world's largest network of independent marketing and communications firms. To learn more about Preston Kelly, visit http://www.prestonkelly.com, become a fan on Facebook at http://www.tinyurl.com/prestonkelly or join the conversation on Twitter at http://www.twitter.com/prestonkelly.
About the Minnesota Zoo
The Minnesota Zoo is located in Apple Valley, just minutes south of Mall of America. For more information, call 952.431.9500 or visit http://www.mnzoo.org. The Minnesota Zoo is an accredited member of the Association of Zoos and Aquariums (AZA) and an institutional member of the World Association of Zoos and Aquariums (WAZA).
###