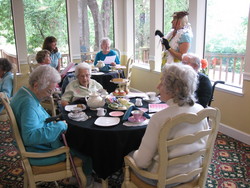 We support a healthy lifestyle by creating experiences that strengthen and enhance the mind, body and spirit
Roseville, CA (PRWEB) June 7, 2010
Mary Murphy, Executive Director, is excited about the new lifestyle programs, "the Terraces of Roseville offers its 'Live Your Way' Wellness Program to all of our residents. We support a healthy lifestyle by creating experiences that strengthen and enhance the mind, body and spirit. And there's always something to do when you call The Terraces home."
One of the many activities provided by the new lifestyle program was Vintage High Tea. The lady residents at The Terraces of Roseville enjoyed a Vintage High Tea with everything from petite dill sandwiches, fresh fruit, and gourmet scones to herbal teas. A vanity closet was filled with feather boas, beautiful hats, fun jewelry and gloves for the ladies to accessorize.
Last week, residents of The Memory Care Garden at The Terraces of Roseville participated in a drumming circle. This Lifestyle Program is designed to offer a sensory experience for our memory care residents. Our residents experienced the rhythm, sounds and feeling of an authentic three-foot deer skin drum. Drumming sticks and rattles were handed to each participant as they journeyed through this amazing experience.
The new Lifestyle programs of The Terraces of Roseville are focused on assisting residents to achieve and maintain their full potential. Our team members work to foster resident independence and are sensitive to respecting each resident's individuality, choice, dignity and privacy. At The Terraces of Roseville, we seek to provide inspiring life experiences that lead to full and enriching lives. We believe that a purposeful life is a meaningful life.
Please call 916-786-3277 to schedule a complementary lunch in our Grand Dining room. For more information visit our website http://www.westmontliving.com. The Terraces of Roseville is located at 707 Sunrise Ave, Roseville, CA 95661
###