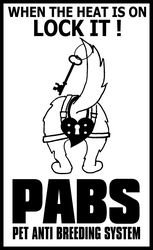 Stop It, Block It, Lock It
Shreveport, LA (PRWEB) June 5, 2010
Dexter Blanch, president of Highly Favored Creations, has recently developed one of the world's first non-surgical pet-anti breeding products called the Pet Anti Breeding System, or PABS. This revolutionary product enables breeders to keep their bloodlines pure through eliminating accidental breeding. The system also allows female dogs to enjoy normal activities during their heat cycle instead of being confined.
"I was thinking back on a hunting excursion that took place years ago. The male dogs were not running rabbits, because their attention was on a beagle that was in season/heat. I remember watching as the beagle and her owner trekked across an open, muddy field, in an attempt to isolate her from the advances of the male dogs. As I contemplated on the owner's struggle to keep his beagle separated from the male dogs, the idea to develop a pet chastity belt just popped into my head. It was such a simple idea that became the obvious solution for a gigantic problem that has plagued breeders and pet owners for centuries."
While not designed to replace spaying or neutering, this product provides peace of mind to breeders and pet owners who wish to raise a litter of healthy pups. It gives pet owners relief in new scientific findings concerning Spaying their female.It also encourages responsible pet ownership and may eventually help control the number of unwanted pets. "It is our sincere desire is to put an end to the killing of five to ten million pets in shelters every year" said Dexter Blanch, president of Highly Favored Creations and inventor of the Pet Anti-Breeding System. "We are also dedicated to educating the public on responsible breeding practices in order to help eliminate negligence, which often leads to the abuse of dogs."
"I find the PABS system a unique solution to a big problem," said Phillip Cooper, vice president of sales at Bamboo Pet Care Division, "With over 80 million dogs in the USA over population is a major concern. The PABS system is a great alternative to spaying or neutering.
The Pet Anti-Breeding System is extremely comfortable and is made from light-weight polypropylene mesh material. A much needed designed for pet birth control. The product slips over your dog's hindquarters and is held in place with an eight-point buckle system and back strap, which attaches to a collar. The rear-end flap can be adjusted so as not to interfere with your pet's natural bodily functions. An environmentally–friendly sanitary pad prevents fluid leakage and will protect your furniture and home from unsightly stains. The product is currently available in 5 different sizes ranging from small to x-Large. For more information visit http://www.pabsforpets.com
About Highly Favored Creations, LLC
Highly Favored Creations is a product development company, with "A Big Heart for People and Pets" as our motto. In 2010, the company launched its debut product, the patented PABS, Pet Anti Breeding System. Dexter Blanch, President and Founder, was inspired to develop this product because of his life-long passion for animals. Contact Dexter at dexter(at)pabsforpets(dot)com or 318-655-4368 or 877-224-7706 or visit pabsforpets.com
Contact:
Dexter Blanch
Highly Favored Creations LLC
8927 Marva Drive
Shreveport, LA 71118
TOLL FREE 877-224-7706
CELL 318-655-4368
info(at)pabsforpets(dot)com
http://www.pabsforpets.com
# # #