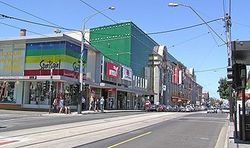 the first web2.0 service that allows any group to establish a rewards program for their group and then invite businesses to provide coupon discounts exclusively to their members
(PRWEB) June 7, 2010
Streets Ahead Promotions Inc, the company that manages marketing and promotions for Chapel Street, Prahran, has started implementing a new rewards program for local traders.
Through this program, Chapel Street businesses will be given the opportunity to offer a 'local trader' discount to people that work on Chapel Street. The idea behind the initiative is to generate more local business in local restaurants, cafes and retail stores and at the same time reward workers in Chapel Street with local discounts.
The Chapel Street 'local trader' program is being setup using an innovative new 'Social Network for Rewards' by Australian startup Myzerr.com.
The Myzerr platform allows groups like Chapel Street to setup a community and then invite businesses to participate in reward program for that community. "In the past we looked into implementing this sort of program but the costs and lack of control was prohibitive but now with Myzerr, it's free to setup a community and start your reward program," says Oscar Cebergs of Chapel Street.
Streets Ahead is currently inviting Chapel Street businesses and local workers to sign up. Members to the program will then be able to download coupons to access savings or to find discounts with the Myzerr iPhone app that brings up a 'nearby' map showing locations of businesses providing discounts.
About Chapel Street
Chapel Street is a shopping, dining and entertainment precinct in Melbourne, Australia. It has myriad shops ranging from exclusive upmarket fashion designers at the South Yarra end to old fashion pawnbrokers towards Windsor.
About Myzerr.com
Myzerr launched its Beta website in February 2010. The company is assisting with the management of loyalty and rewards programs for groups and associations in the US, UK, Australia, Malaysia and South Africa. The application is the first Web2.0 service that allows any group to establish a rewards program for their group free of charge, after which they can invite businesses to provide coupon discounts exclusively to their members.
# # #