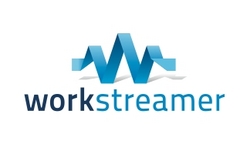 "We believe job data relative to a business provides key insights into the financial viability and overall health of a company, whether that company is a prospect or partner, customer or competitor."
Austin, TX (PRWEB) June 4, 2010
Workstreamer, a business listening platform delivering a real-time information advantage to business professionals, today announced an integration of jobs data into the platform.
Thousands of job listings are generated daily on a global basis across all job and recruitment sites and services. Workstreamer now allows business professionals to follow companies and discover new job openings as well as fluctuations in company-specific job trends. This new information extends the value of workstreamer beyond the already available business relevant sources from News, Blogs, LinkedIn, Jigsaw, Twitter, etc.
Recruitment firms, business professionals, and businesses receive a number of advantages, including the ability to:

Target companies during a growth or downsize period
Gain key competitive and industry intelligence
Track career opportunities and trends for any business
Utilize free and robust business listening capabilities
Real-time data on job listings has long been known as a key macro-economic indicator for a country's economy. Workstreamer monitors job trends on a weekly basis. Once a critical mass of jobs data is hit, an update is added into the company's workstreamer Business Index.
"We believe job data relative to a business provides key insights into the financial viability and overall health of a company, whether that company is a prospect or partner, customer or competitor," said Co-Founder and CEO, Hank Weghorst. "This is especially important in the fast-moving business climate we live in today."
Currently, workstreamer is a holistic source for many types of business information, including:
Blogs, News and Published articles that scored high for business context and relevance
Business Tone Cloud for Twitter including top Tweets and top linked Tweets for the day
Proactive alerts of Jigsaw Data contacts added for a users' companies or accounts
LinkedIn network additions to a users' network in context to each of the users companies or accounts
Salesforce.com system account activity
Workstreamer's current job data filters in from Indeed.com, the search engine for jobs that allows job seekers to find positions posted on company career sites and job boards.
"By providing job search results to the Workstreamer platform, we are allowing its users to get an inside look at a company's hiring trends", said Matt Molinari, Director of Business Development for Indeed. "Indeed is pleased to help Workstreamer provide a comprehensive company overview to business professionals."
Workstreamer is open for public beta signups now, and is actively working with information partners to make staying relevant and up-to-date on current business happenings a more seamless and simple experience for professionals and businesses around the world.
About workstreamer:
Workstreamer is a real-time business listening platform, tailored for business professionals looking to stay informed, relevant and competitive. With its one-click business listening platform, professionals begin listening to customers, prospects, competitors, partners and vendors immediately. Workstreamer adds a layer on top of the social Web, providing significant business intelligence.
The company was founded in 2008 by Co-Founders, Hank Weghorst and Suaad Sait. It is seed funded by Austin Ventures and headquartered in Austin, TX.
For more information, visit: http://workstreamer.com/
# # #