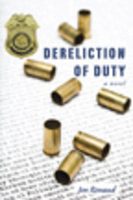 an exciting fiction novel that has been described as NCIS meets 24...
Colorado Springs, Colorado (PRWEB) June 5, 2010
Author and retired Army Warrant Officer Jon Renaud, and Foxx Group Publishing, announces the release of his debut action-thriller, Dereliction of Duty, an exciting fiction novel that has been described as NCIS meets 24. Follow the action from the halls of the Pentagon to the deadly streets of Baghdad and experience how the U.S. Army is fighting terrorism both on the battlefield and in their own ranks.
The proceeds from the sale of Dereliction of Duty are being donated to the Wounded Warrior Project, a non-profit charitable organization committed to helping wounded soldiers from Iraq and Afghanistan.
Dereliction of Duty is available now at http://www.jonrenaud.com for just $14.99 and for a limited time (through July 4, 2010) all purchases from this website will receive free shipping anywhere in the U.S. or to an APO/FPO address. Foxx Group Publishing is also giving away 10 Kindle 2 Book Readers in drawings throughout the summer to customers who purchase a copy from the website. Visit http://www.jonrenaud.com for more details.
Dereliction of Duty is also available at Amazon.com and Barnes & Noble Online and other online retailers. An Amazon Kindle version is due out in July 2010.
So don't feel guilty about spending your summer by the pool with a great book, just make sure that great book is Dereliction of Duty and know you are helping a wonderful cause.
Back Cover Summary: A tough, veteran Army CID Agent, Thomas Fox, is recruited into the Army's new Counter Terrorism Task Force to take on the growing threat of domestic terrorism and extremists in the ranks of the U.S. Military. But it is not long before a rogue U.S. Senator controlling the Task Force decides to take it in a new direction. He sends Fox to Baghdad to ensure a radical Islamic Cleric does not steal the upcoming elections in Iraq. After a failed assassination attempt on the U.S. Secretary of Defense by this cleric, the leaders of the Task Force give Fox the green light to take him out. But when something goes wrong, someone has to take the fall. Fox returns home to find himself in the middle of a cover-up at the highest levels of the government. When going along with their plan doesn't work, Fox decides to hit the streets to take down the Task Force and the corrupt politicians running it.
Agent Fox is thrust into a world of revenge, lies and betrayal. He must risk everything to clear his name and protect the ones he loves.
In this action packed thriller, Agent Fox discovers that sometimes, politics can be just as dangerous as the streets of Baghdad.
About Jon Renaud: Jon Renaud is a retired U.S. Army Warrant Officer and CID Special Agent who served 20 years in the Army. He served two tours in Iraq in 2003 and 2005 where he earned two Bronze Stars. Jon now lives in Colorado Springs, Colorado.
# # #