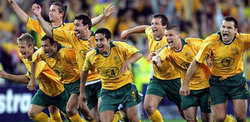 This is absolutely massive, it's the biggest occasion in Australia's soccer history. We have shown that we can mix it with the world's best
Sydney, New South Wales (PRWEB) June 9, 2010
World Cup Socceroos merchandise and sport gifts specially designed to express Aussie spirit are the featured Australia gifts at Australia Souvenir Gift Shop (http://www.AustraliaSouvenir.com/). The online shop owners have assembled a special selection of soccer souvenirs for everyone who loves Aussie sports or collects soccer souvenirs.
Aussies are rallying in record numbers around footballers Tim Cahill, Harry Kewell, Lucas Neill and the rest of the Qantas Socceroos team during their quest for the 2010 World Cup. The whole nation is united in support of the team, and is proud to have been chosen to host one of only 7 international FIFA Fan Fest sites.
"Socceroos fans who want to celebrate and show proper Aussie spirit and pride will be displaying Australian flags on their cars, waving green and gold pom poms and decorating themselves with Socceroo tattoos – and we want to make sure they have all of the soccer souvenirs they need to get through a month's worth of Australia World Cup matches," said James, Account Manager at Australia Souvenir Gift Shop.
For one whole month, between 11 June and 12 July, the Sydney International FIFA Fan Fest™ is expected to draw more than 50,000 fans per day to watch all 64 games on giant screen TVs which will be broadcasting day and night in Darling Harbour, according to The Roar, an independent Australian sports opinion website.
And the Sydney Morning Herald has reported that more than 43,000 Australians bought tickets to attend matches in person. Since their strong showing in the 2006 World Cup, the Socceroos have become so popular that they have begun to dominate Aussie sports.
"We're proud of our Australian soccer team and we want the world to know it. From green and gold beanies to wear, to blow-up clappers, to roll-up soccer banners printed with our national cheer: "Aussie Aussie Aussie Oi Oi Oi", we're making sure we can supply fans with the proper gear to celebrate with," added James.
Australia Souvenir Gift Shop specializes in Aussie sports souvenirs and other unique Australian gifts. The website provides Australia Word Cup fans with mementos to celebrate the 2010 Australia World Cup matches with families and friends. For more information, visit http://www.AustraliaSouvenir.com/, or contact James at 1800 004 372 (International Number: +614 0101 8464) or mail(at)australiasouvenir(dot)com.
###