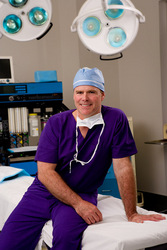 Littleton, CO (PRWEB) June 4, 2010
Dr. Randolph C. Robinson has recently been selected to receive the AAOMS (American Association of Oral & Maxillofacial Surgeons) Humanitarian Award for Fellows and Members. The award was established in 1997 to recognize AAOMS fellows and members for their participation in community leadership and volunteer projects. Recently, the AAOMS Board of Trustees and the Awards Committee announced that this award be renamed and expanded to include efforts on a global basis in addition to local community efforts and two awards be provided annually. Dr. Randolph C. Robinson and Dr. Michael C. Matzkin have been selected to receive this prestigious award in 2010.
The presentation of this award is scheduled for Wednesday, September 29, 2010 in Chicago during the AAOMS 92nd Annual Meeting.
Dr. Robinson recently returned from his 22nd visit overseas with Face the Challenge (FTC), a non-profit humanitarian organization dedicated to providing surgeries for those less fortunate in other countries. FTC estimates that since 1993, the team has provided about 1,082 free facial surgeries over 29 visits to several countries including Costa Rica, Bolivia, Vietnam, and China. Dr. Robinson has also traveled to Ukraine, Moldova and Siberia in order to lecture on various procedures and techniques. For more information about Face the Challenge, please visit their website at http://www.FaceTheChallenge.org.
About The American Association of Oral and Maxillofacial Surgeons (AAOMS)
The American Association of Oral and Maxillofacial Surgeons (AAOMS) is the professional organization representing more than 9,000 oral and maxillofacial surgeons in the United States. AAOMS supports its members' ability to practice their specialty through education, research, and advocacy. AAOMS members comply with rigorous continuing education requirements and submit to periodic office examinations, ensuring the public that all office procedures and personnel meet stringent national standards.
About Randolph C. Robinson, M.D., D.D.S.
A leading cosmetic and reconstructive surgeon in the Denver area, Dr. Randolph C. Robinson is dual board-certified by the American Board of Oral & Maxillofacial Surgery and the American Board of Cosmetic Surgery. Dr. Robinson has more than 17 years experience in private practice and has served as an Officer on the Board of Directors at Park Meadows Cosmetic Surgery in Lone Tree, CO since 1997.
About Park Meadows Cosmetic Surgery
Located on the south edge of Denver, Colorado, Park Meadows Cosmetic Surgery is committed to providing a full range of state-of-the-art plastic, cosmetic and reconstructive procedures, including facial plastic surgery and reconstruction, breast reconstruction, breast enhancement, body contouring, and cosmetic dermal fillers . Its associated Park Meadows Outpatient Surgery Center is the first state licensed, Joint Commission accredited surgical center in Douglas County. For more information about Park Meadows Cosmetic Surgery or to follow them on Facebook and Twitter, please visit http://www.parkmeadowscosmeticsurgery.com or call 303-706-1100.
Contact:
Anne Duncan
Development Director
Park Meadows Cosmetic Surgery
7430 E Park Meadows Drive, Ste 300
Lone Tree, CO 80124
303-706-1100
###