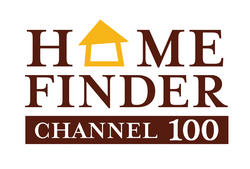 It's a Revolution in Real Estate Marketing for Greater Toledo!
Toledo, OH (PRWEB) June 5, 2010
Buckeye CableSystem® and HomeFinder Channel 100® to revolutionize real estate marketing in Greater Toledo on Sunday June 6th. On this date, the company will debut the WTO5 ® "HomeFinder Showcase" TM as well as a new mobile real estate web site with special "CURB SEARCH" TM features. Both efforts serve a recovering real estate market.
WTO5® "HomeFinder Showcase"TM To Break Digital Barrier
The HomeFinder Showcase hour breaks the digital barrier on Sunday June 6th at 8 AM. That's when Toledo area homes for sale will be shown on WTO5, which is Basic Cable Channel 5. The new weekly one hour show is billed as "The Best of HomeFinder Channel 100®." Channel 100 is a Buckeye CableSystem digital channel launched in April of 2008. It continues as Toledo's only 24-hour real estate channel. The Sunday morning show on WTO5 will launch with bonus exposure for those already advertising on HomeFinder Channel 100. Now both channels offer television advertising opportunities to home buyers, sellers, Realtors®, and real estate related businesses. The difference is that Channel 5 reaches every Buckeye CableSystem subscriber, or approximately 152,000 homes, including those without Buckeye Digital service.
"This doubles our audience reach," says Lonn Dugan, Real Estate Manager at Buckeye CableSystem. "Television rates are now affordable and within reach of the average home seller or real estate agent." The low rates are the result of exclusive web based technologies developed by Buckeye CableSystem.
New Mobile Web Site Makes HomeFinder Channel 100 a 3 Screen Network:
Television ads also play as web video ads at no extra charge on a companion web site, found at http://www.HomeFinder100.com. A new mobile web site and shorter address of http://www.HF100.com are also launching on June 6th. The powerful web site automatically launches the new mobile version when browsed from a smart phone or mobile device. At the regular or mobile site, visitors will find a powerful real estate search engine, open house guide, and real estate agent guide. "A 'CURB SEARCH' TM feature found on the mobile site provides real estate facts, photos, and video to consumers when they are parked in front of a house and unable to reach an agent. Information is available by entering a street number or street name," says Dugan. With this launch, HomeFinder Channel 100 pioneers as a 3 screen real estate network. This is an industry term for delivering original multimedia content to Television, Internet connected computers, and mobile devices.
About The Company
HomeFinder Channel 100 is a service of Buckeye CableSystem. Dugan says, "We help area Realtors promote economic recovery. Real Estate sales drive so many parts of our economy that a housing sales recovery should have a broad impact." This is because home buyers and sellers spend a lot of money preparing a house to sell, or moving in and making a house a home. The most obvious beneficiaries of a sales increase will be Realtors, Lenders and Title Companies. But many other Toledo area businesses also will be stimulated. Moving Companies, appliance retailers, and furniture stores are just a few examples. "Our motto is 'Partners in Progress,'" Dugan adds, "because we 'partner' with home sellers, buyers, and agents to help them all accomplish a successful outcome. The word 'Progress' refers to special HomeFinder Channel 100 technology that makes television affordable and online marketing easy."
Steve Piller, Vice President of Advertising Sales at Buckeye CableSystem, adds, "We hope our investment in this market sends a message of hope about the future of real estate in our area. If we as a company can use our communications resources to help build consumer interest in the overall real estate market, then everybody wins!"
END. For Additional Information, Contact HomeFinder Channel 100, Lonn Dugan, Real Estate Manager, Buckeye CableSystem, at 419-724-7279 or ldugan(at)cablesystem(dot)com. See http://www.HomeFinder100.com
###