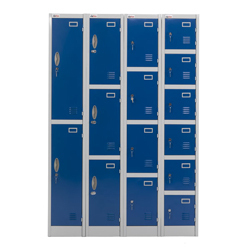 With budget cuts expected, schools and other public sector organisations have to find cost effective ways of providing storage facilities
(Vocus) June 5, 2010
Storage equipment specialist Action Storage has announced the launch of its new Atlas™ Economy Locker range. The lockers are readily available from stock, and provide high quality storage at a budget price. With cuts in funding for the public sector expected, the Atlas Economy Lockers offer a secure option as school lockers or in other public sector applications at a price they can more easily afford.
With 2, 3, 4 or 6 door arrangements available, the Atlas™ Economy lockers provide multifunctional storage, suitable for a variety of environments. The larger sized lockers are fitted with coat rails for neatly hanging clothes, whilst the smaller lockers are perfect for securely storing personal items, such as wallets, mobile phones and text books. An antibacterial paint finish ensures they can be kept clean and hygienic. And with high stock levels available, the Atlas Economy lockers can be quickly delivered within seven working days.
"With budget cuts expected, schools and other public sector organisations have to find cost effective ways of providing storage facilities," said Action Storage's MD Tom Brialey, "The Atlas Economy locker range is a high quality solution. Built from sturdy steel, the range offers smart, secure storage at a price tag that organisations, in both the public and private sector, can more easily afford. We expect it to be a popular locker range as more organisations look to save costs without compromising on the facilities they offer."
The new coalition Government has already pledged to halve the budget deficit of £156bn in four years. So public sector organisations will be under pressure to make their budget stretch further. This is why Action Storage expects its Atlas™ Economy range to be a popular school locker cost saving option.
The Atlas™ Economy locker range can be ordered online on Action Storage's website, where you can also find details on its other modern ranges of lockers, shelving and storage equipment. All orders placed online receive a 5% discount, and public sector organisations can apply to purchase equipment on credit.
On the website you can also order a free printed version of Action Storage's catalogue and register for email updates on its latest special offers.
About Action Storage
For over 23 years Action Storage (http://www.action-storage.co.uk) has supplied shelving, racking and other storage equipment using the latest materials and innovative designs. Its clients include supermarkets, warehouses, government offices and anyone else requiring high quality storage systems throughout the UK and mainland Europe.
Action Storage prides itself on its high service levels, and provides a free, unique advice line for discussing your requirements and assessing the perfect storage solution.
For service enquiries contact:
Website: http://www.action-storage.co.uk
Email: sales (at) action-storage (dot) co.uk
Tel UK: 0800 592215
Outside UK: +44 (0)1908 525700
Fax: +44 (0)1908 321650
Action Storage
6 Fitzhamon Court
Wolverton Mill South
Milton Keynes
Bucks
MK12 6LB
###