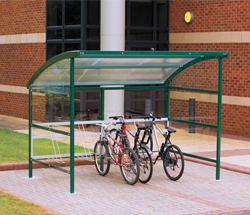 It's estimated that half of all car journeys are less than five miles, whilst only 3% of employees cycle to work
(Vocus) June 8, 2010
The Cycle to Work Guarantee scheme is an initiative aimed at encouraging employers to provide bike storage and the other facilities needed to persuade more people to cycle to work. In response, storage specialist Action Storage has announced details of how its range of cycle racks, cycle shelters and lockers can enable employers to join the Cycle to Work Guarantee scheme.
Action Storage's wide range includes pillar bike racks, space saving bike lockers and roofed bike shelters. In particular, its lockable cycle compound can securely store up to 80 bikes and is covered with Perspex cladding to protect them from the rain.
Along with bike shelters, Action Storage supplies a variety of lockers for storing lights, helmets and waterproof clothing. This includes the eXtreme® plastic locker, which can be stacked outdoors without risk of rusting and is tough enough to withstand break in attempts from a claw hammer. Action Storage also supplies changing room lockers so that cyclists can get changed and hang their waterproofs to dry during the day.
"It's estimated that half of all car journeys are less than five miles, whilst only 3% of employees cycle to work," said Action Storage MD Tom Brialey, "Cycling can improve your health, alertness and productivity, as well as reduce pollution and traffic congestion. It's no wonder the Government wants to start a 'Cycling Revolution', and with our range of secure cycle shelters and weatherproof lockers we aim to help."
The Cycle to Work Guarantee scheme is just one of a series of initiatives aimed at encouraging more people to start cycling. Over 70 organisations have joined the Cycle to Work scheme, including universities and colleges, NHS hospitals and private sector companies, such as BSkyB, Kellogg's and Glaxo Smith-Kline. Many more are expected to join as awareness on the benefits to employers of a healthier, more alert and more productive workforce spreads.
Details of Action Storage's range of cycle racks, cycle shelters and changing room lockers can be found on its website. All orders placed online receive a 5% discount, where you can also register for email updates on Action Storage's latest special offers and request a free catalogue.
About Action Storage
For over 23 years Action Storage has supplied shelving, racking and other storage equipment using the latest materials and innovative designs. Its clients include supermarkets, warehouses, government offices and anyone else requiring high quality storage systems throughout the UK and mainland Europe.
Action Storage prides itself on its high service levels, and provides a free, unique advice line for discussing your requirements and assessing the perfect storage solution.
For service inquiries contact:
Website: http://www.action-storage.co.uk
Email: sales (at) action-storage (dot) co.uk
Tel UK: 0800 592215
Outside UK: +44 (0)1908 525700
Fax: +44 (0)1908 321650
Action Storage
6 Fitzhamon Court
Wolverton Mill South
Milton Keynes
Bucks
MK12 6LB
Sources
chesterchronicle.co.uk/chester-news/local-chester-news/2009/11/09/countess-of-chester-hospital-signs-up-to-cycle-to-work-scheme-59067-25128380/
mirror.co.uk/news/top-stories/2009/10/28/gearing-up-for-cyclists-115875-21778890/
guardian.co.uk/environment/green-living-blog/2009/oct/28/uk-government-cycle-to-work-scheme
cycletoworkguarantee.org.uk/
thomsons.com/page/11113/uk-and-europe/reward-news-knowledge/employee-rewards-and-benefits-news/articles/cycling-to-work-should-be-central-to-employee-benefits?fromSearch=true
road.cc/content/news/11078-cycling-demonstration-towns-see-growth-cyclist-numbers
fleetdirectory.co.uk/fleet-news/index.php/2009/11/11/government-announces-10m-cycling-investment/
###