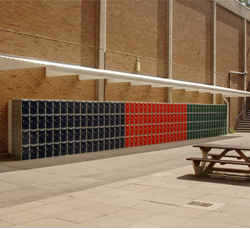 (Vocus) June 6, 2010
Whether it's storing PE equipment, text books or drama props, schools require storage facilities for a wide variety of items in many different departments. A new school in Bristol, built as part of the Building Schools for the Future (BSF) scheme, required shelving to be installed in 28 different locations. It was crucial that each installation maximised the available space and that the entire project was completed promptly so the school could be ready for the new term. Action Storage's combination of its modular Supershelf™ shelving system and expertise in managing large scale projects helped to ensure the installation project was a success.
The Bristol school required the shelving to be installed in a variety of storage room areas, with careful planning needed for each one. Thanks to its expertise in assessing how to maximise storage space and the versatility of its Supershelf™ stockroom shelving system, Action Storage was able to provide an optimised storage arrangement for each location.
Supershelf™ is an easily adjustable, modular shelving system that can be customised to suit the available space in any stockroom or storage area. It can be supplied in a variety of sizes and configurations, and its bolt free construction enables it to be easily adjusted to suit the items being stored, whether it's PE equipment or text books.
Another vital part of the installation was that the steel shelving had to be installed promptly so the school could open on schedule. Further complexity was added by simultaneous installation projects and construction work also taking place on site.
Thanks to the high stock levels stored in its Milton Keynes based warehouse, Action Storage was able to quickly deliver the required Supershelf™ shelving equipment in less than 7 working days. The experience of its in-house installation team, in managing large scale installation projects, also helped to avoid any potential problems from the amount of onsite activity. Action Storage was able to install the Supershelf™ shelving in all 28 different locations on schedule, enabling the new Bristol school to open on time for pupils at the start of the new term.
The Building Schools for the Future (BSF) scheme aims to rebuild or refurbish all 3500 state secondary schools in England by 2020. So far 80 new schools have been opened and another 70 refurbished and reopened. Due to its long standing relationship with the education and public sector, Action Storage is expected to be involved in improving the storage facilities for many more schools through the scheme.
Further information on the Supershelf™ shelving system, school lockers and other innovative storage products in the Action Storage range can be found on its website where you can also order or download its new 160 page catalogue free of charge and find out more about its free survey and design service. Schools and other public sector organisations can place orders on credit with a valid purchase order, and all online orders receive a 5% discount.
About Action Storage
For over 23 years Action Storage has supplied shelving, racking and other storage equipment using the latest materials and innovative designs. Its clients include supermarkets, warehouses, government offices, schools and anyone else requiring high quality storage systems throughout the UK and mainland Europe.
Action Storage prides itself on its high service levels, and provides a free, unique advice line for discussing your requirements and assessing the perfect storage solution.
For service enquiries contact:
Website: http://www.action-storage.co.uk
Email: sales (at) action-storage (dot) co.uk
Tel UK: 0800 592215
Outside UK: +44 (0)1908 525700
Fax: +44 (0)1908 321650
Action Storage
6 Fitzhamon Court
Wolverton Mill South
Milton Keynes
Bucks
MK12 6LB
cnplus.co.uk/sectors/education/bristol-deal-takes-total-bsf-contracts-to-31/5200635.article
telegraph.co.uk/culture/7658278/The-future-of-schools.html