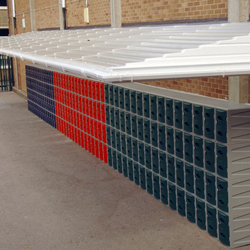 We've assisted schools in improving and expanding their facilities for decades
(Vocus) June 7, 2010
Hailed as the 'greatest school renewal programme in British history', the Building Schools for the Future (BSF) initiative is aimed at improving the facilities of every secondary school in England. In recognition of its long standing relationship with the public sector, storage equipment specialists Action Storage is offering a range of products and services to assist schools in taking advantage of the largest capital investment programme in 50 years.
Between 2008 and 2011, £9.3 billion is to be spent on new facilities and refurbishing 3500 schools. Rather than merely fixing leaking roofs, the investment is designed to transform schools into world-class learning environments for 3.3 millions pupils.
Achieving such ambitious aims poses many challenges and schools will need to ensure they spend the investment wisely. As well as gaining value for money, schools need to find suppliers that can respond to the volume of work and have experience in managing large scale building projects.
"We've assisted schools in improving and expanding their facilities for decades," said Action Storage MD Tom Brialey, "Along with the latest lockers and cycle shelters, we provide schools with design and project management expertise to ensure every installation runs smoothly."
Action Storage has a long standing relationship with the public sector, and has supplied storage equipment to schools, colleges and universities throughout the country. This includes installing 1000s of lockers, such as brightly coloured school lockers, secure laptop storage lockers, and eXtreme™ plastic lockers (which can be stacked outdoors under cover and are resistant to break in attempts from a claw hammer).
Along with the latest high quality storage lockers, Action Storage provides a free survey and design service to ensure schools are making the best use of their storage space. Action Storage's design team will visit the school, assess the space available and then draw up floor plans of the best arrangement possible. Action Storage's installation team will then ensure that lockers and other equipment are installed safely and hassle free.
Action Storage can also assist schools achieve another of the scheme's aims, which is to create sustainable, environmentally friendly schools. Along with solar panels and water recycling, schools can reduce their carbon footprint by encouraging pupils to cycle to school. Action Storage's range of bike compounds and storage lockers enable pupils to safely store their bikes, helmets and lights throughout the day. Cycling also helps pupils to become more active, healthy and attentive in lessons.
For more information on its product range and installation service, schools can contact Action Storage on its unique free helpline for expert advice on building their school for the future.
About Action Storage
For over 23 years Action Storage (http://www.action-storage.co.uk) has supplied shelving, lockers, racking and storage equipment using the latest materials and innovative designs. Their clients include retail, warehouses, schools, government offices and anyone else requiring high quality storage solutions throughout the UK and mainland Europe.
Action Storage pride themselves on their high service levels, and provide a free, unique advice line for discussing your requirements and assessing the perfect solution.
For service enquiries contact:
Website: http://www.action-storage.co.uk
Tel UK: 0800 592215
Outside UK: +44 (0)1908 525700
Fax: +44 (0)1908 321650
###