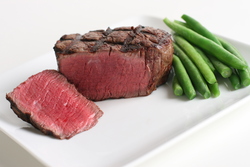 "It's our goal to take the guesswork out of buying steak—we guarantee consistent quality from one order to the next, so our customers know they'll get a perfect cut, each and every time."
Chicago, IL (PRWEB) June 4, 2010
Steak lovers around the country are discovering the many benefits of purchasing their favorite cuts of meat online—affordable values, premium selection, and the convenience of doorstep delivery, to name a few. With the debut of e-commerce store http://www.FiletMignons.com in June of 2010, consumers now have an exciting new source for their gourmet steaks.
Long distinguished as the most popular type of steak on the market, Filet Mignons are preferred for their lean, tender, and flavorful cuts. Served at the finest dining establishments across the country, Filet Mignons are the entrée of choice for everything from celebratory meals to formal affairs to casual backyard barbeques.The proprietors of FiletMignons.com are longtime steak connoisseurs committed to providing customers with premium-quality meats, first-rate service, and quick, fresh delivery. "Our customers are busy, and they have plenty of options when it comes to purchasing Filet Mignons," a representative of the company notes. "We've made the decision easier by offering the quality they demand and the smooth, hassle-free shopping experience they deserve."
FiletMignons.com has partnered with a century-old meat packing company that supplies gourmet meats to some of the nation's finest dining establishments and brands. The website specializes in premium-quality USDA Prime, USDA Choice, and All Natural Filet Mignons. To ensure premium quality, the company sources its steaks from native Midwestern Angus, Hereford, and Wagyu cattle. Each cut is carefully hand-selected for ideal marbling, then perfectly aged for optimal flavor and tenderness.
All steaks are hand-cut by expert butchers to exacting specifications, ensuring precise size, weight, shape, and texture. "So often, people complain about getting a 'bad cut' of meat, even if they got a great steak at the same place just a week before. It's our goal to take the guesswork out of buying steak—we guarantee consistent quality from one order to the next, so our customers know they'll get a perfect cut, each and every time." For consumers who may be leery about ordering meats online, FiletMignons.com points out that providing superior quality steak is the key focus of the company. Each steak is inspected for quality, individually wrapped, flash frozen, and vacuum-sealed before shipment, ensuring that each cut is pure and tender. For even greater peace of mind, all orders are 100% guaranteed.
"It's our goal to not only sell great steaks, but to educate and engage our customers. We want to leverage our expertise and passion for Filet Mignons to become the one-stop resource for everyone from professional chefs to patio grill masters."
To learn more about the company or browse the product assortment, please visit http://www.FiletMignons.com.
###