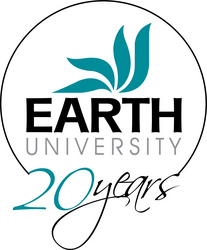 We have surpassed our goal. Thanks to all the people who believed in this initiative, we are able to give the planet a breath of fresh air with more than one million trees
Atlanta, GA (Vocus) June 5, 2010
On Saturday, June 5, 2010, World Environment Day, EARTH University will unite its alumni and friends in 31 different countries to plant over one million trees. This global event, aptly named EARTH Plants the Future, is a concrete and practical action to mitigate current emissions of greenhouse gases and will fix approximately 87,500 tons of carbon dioxide annually. This event, which is being made possible thanks to the efforts of EARTH faculty, students, sponsors, friends and alumni, is part of EARTH University's 20th Anniversary celebration.
"We have surpassed our goal. Thanks to all the people who believed in this initiative, we are able to give the planet a breath of fresh air with more than one million trees," affirmed José Zaglul, President of EARTH University.
"Over the course of its 20 years, EARTH has responded to the urgent need to address environmental destruction and climate change and its graduates have been instrumental in introducing sustainability in their work and communities," he adds.
In Costa Rica, EARTH University has organized the main tree-planting event on its campus which will be attended by Costa Rican President Laura Chinchilla and Vice-President Alfio Piva, along with 1600 sponsors, allies, press, business people and friends of the Institution.
In the United States, five alumni of EARTH University will join the EARTH Plants the Future campaign and planted 1,100 trees in Canistota, South Dakota. Another 15 alumni of EARTH University, all of them current students at the University of Florida, planted 1,500 trees on five acres of land at Gainesville's Prairie Creek Preserve, managed by Alachua Conservation Trust. "We planted long leaf pine (Pinus palustris), a once common tree in the coastal plains of the southeast United States, but one that has been over harvested," commented Laura Avila, EARTH University, '01, who will participate in the efforts. In Atlanta, Trees Atlanta is participating through their NeighborWoods tree maintenance project. In Washington D.C., members and volunteers of the Earth Conservation Corps will plant a butterfly garden in Oxun Run Park in honor of the many butterfly species in Costa Rica.
EARTH Plants the Future is being made possible thanks to the generous global sponsorship of CNN International and Cummins Inc.
Celebrating its 20th Anniversary in 2010, EARTH University (http://.http://www.earth.ac.cr) was founded with the support of the United States Agency for International Development (USAID), the W.K. Kellogg Foundation and the Government of Costa Rica to prepare young people from economically-depressed communities in Latin America, the Caribbean and other regions, including Africa and Asia, to become agents for change in their communities. EARTH offers a four-year undergraduate program in agricultural sciences and natural resources management, providing a world-class scientific and technical education that emphasizes values, ethics, entrepreneurship and environmental and social commitment. Through the generous support of donors, EARTH University provides opportunities to young people who want to make a difference in the world but lack the financial resources for higher education.
EARTH University Foundation (http://.http://www.earth-usa.org) was formed to support the educational vision of EARTH University through generous gifts from the global community and other programs and initiatives. The Foundation is a registered 501(c)(3) public charity headquartered in Atlanta, Georgia.
###