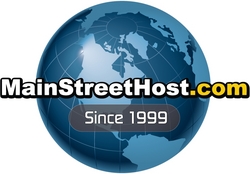 Half of the American public access the internet every day, and making your presence known to them on the World Wide Web is now easy and affordable.
Buffalo, NY (PRWEB) June 7, 2010
Mainstreethost.com is pleased to announce the addition of its Social Media Marketing department. Social Media Marketing is the fastest growing and most cost effective form of internet marketing out there today. Mainstreethost.com offers packages that consist of creating a Facebook page and Twitter account, and linking two together so your company can send a single message and reach unlimited people instantaneously. Main Street Host can help you gain fans on your company's Facebook, post messages, and create a professional page that is customized to your business. Mainstreethost can also design a landing page with custom html coding to bring your website(s) into Facebook showing the maximum amount of information about your business, upload photos and videos, develop a pay-per-click campaign customized to your business, and maintain your Facebook for you. MSH also create and link your Twitter page to your Facebook and your website and create a custom Twitter background. Our marketing consultants will work with you and stay in contact with you to update and market your page accordingly to reach the maximum amount of Facebook and Twitter users.
Mainstreethost.com now offers Mobile web site development. Mainstreethost.com can build you a 310 pixel site that can be viewed from a mobile phone and use the existing domain name for your site, which will establish credibility and ensure quicker website optimization.
MAINSTREETHOST.COM is constantly changing and adapting to the constant changes and new ways to market online. Creating a mobile website for your company is something that more and more companies are starting to do because of the constant increase in the use of cell phones for the internet. With smart phones becoming more and more popular, more people are using the internet on the phone, and having a mobile friendly website is very helpful to the user as it allows them to view text and navigate through your website easily. Experts estimate that there will be 4 billion mobile phones by the end of 2010 and can figure that 59% of the planet will own a phone within the next two years.
###