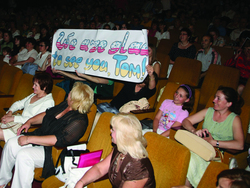 "We are excited to introduce our powerful nutritional and personal care products to the Ukrainian market, and are optimistic about the unique entrepreneurship opportunities available through SISEL." - Tom Mower Sr.
Kyiv, Ukraine (PRWEB) June 5, 2010
The much anticipated opening of Sisel International in Ukraine has finally arrived. On May 30th, Sisel Founder and Chairman Tom Mower Sr. was in the Ukrainian capital for a launch meeting attended by more than 500 people from all parts of Ukraine and around the world. Held in Kyiv's most prestigious venue, the Ukrainian House, this event was the culmination of Mower's national launch tour, which included meetings in Donetsk and Zaporizhia. Each of these events was well attended due to the warm relationships Tom created with his former company, which was highly successful in Ukraine.
Rostislav Talsky, one of Ukraine's most successful distributors and now a stockist for the company stated that, "This meeting with Tom is a great privilege and represents a new stage in our business development."
Distributors and interested individuals in attendance at the Kyiv event gathered to learn more about Sisel's Global Seamless Compensation Plan and the variety of new discoveries in beauty, wellness, and supplement science. "Tom Mower has once again proved to us that we can never stop no matter what we have already achieved," said Ludmila Starichenko, a distributor from Kyiv, after the meeting. "He told us to continue working hard and to have faith in our success."
During the meeting, Mr. Mower explained how the human body needs additional nutritional support after the age of 25 and shared how Sisel's advanced products can address those needs. He also referred to the bathroom as "the most dangerous room in the home" due to the prolific toxins found in many of the personal care products used there. He elaborated by explaining that consistent use of these items may cause the toxins to gradually build up in the body, eventually causing potentially life-threatening health concerns, and urged everyone present to replace these potentially harmful products with high quality, toxin free Sisel alternatives.
Mower also introduced four products new to the Ukrainian market that he referred to as "the circle of life," due to their abilities to strengthen and protect the body. He stated that these products, which include Eternity, FuCoyDon, SupraMaxx, and Spectra AO, represent several exclusive innovations, trademarks, and patents pending. He also introduced the Sisel Timeless Minerals mineral cosmetics and Timeless Beauty Anti-aging lines and announced some exciting new products currently in development.
The mood in the venue was charged with excitement and many of Mower's announcements were met with cheerful applause and standing ovations. Many of the attendees were clearly excited to begin promoting Sisel's products and business opportunity in Ukraine. "Sisel and Tom Mower are names that, to me, are guarantees of quality, efficacy, and safety," stated Olga Zhiryakova, a distributor from Kyiv.
In addition to the local distributors, many guests from surrounding countries were in attendance and expressed happiness that the Sisel Global Seamless Compensation Plan allows them to develop their businesses in Ukraine by thinking locally and acting internationally. Many Sisel Distributors currently have members of their groups from several open Sisel markets. Christian Rombach, a successful German distributor who was in attendance to begin working with his Ukrainian downline stated that "the products and business opportunity this wonderful company Sisel offers are a unique chance to bring the world to Ukraine and bring Ukraine to the world."
Mower demonstrated his ability to inspire and create enthusiasm as he encouraged all in attendance to begin registering themselves and others and placing their initial orders with the goal of having enough active distributors to support a corporate training event in Ukraine in September. He closed the meeting by saying, "We are back! Are you ready? We believe in you and this company is made for you! Let's get started!"
About SISEL International:
Utilizing evidence-based, high-performance ingredients, SISEL produces powerful nutritional and personal care products based on solid science. These highly advanced products are developed in SISEL's state-of-the-art research and development laboratories and produced in their world-class manufacturing facility. The company's mission is to create heath, wealth and happiness for SISEL distributors and consumers throughout the world by providing life-giving products and success-oriented opportunities through SISEL's generous compensation plan. SISEL's products are free from potentially harmful ingredients commonly found in other commercial brands. For more information on SISEL International, visit the company's official website at http://www.Siselinternational.com.
Contact: Rod Hansen, Director of Public Relations
SISEL International
801.472.2384
###