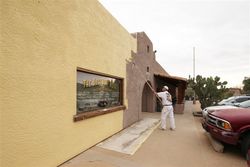 In Florida, harsh UV rays and algae growth are major issues and NeverFade is the answer. This paint supports a level of quality that is up to par with the service that I provide.
Akron, OH (Vocus) June 9, 2010
Gone are the days when contractors presented homeowners with a timeframe estimate of several months to get started on a new project. Given recent economic woes, contractors and painters are scrambling to add new work. Along with the tight economy, building industry professionals have discovered that increased competition along with pricing challenges have made it difficult to gain new business.
Engineers at APV Engineered Coatings® in Akron, Ohio have found a way to help painters and contractors set themselves apart in the marketplace and generate new business. The company recently introduced NeverFade™ exterior paint and has backed it with an unprecedented 15-year warranty against fading. Made with Kynar Aquatec® polyvinylidene fluoride (PVDF), the paint also resists algae, fungus, stains and abrasions.
"APV has developed a Pro-X Certified Contractor™ Program to provide select painters and contractors with access to NeverFade in their marketplaces," says Erin Brown, marketing director for APV Engineered Coatings. "Pro-X Certified Contractors are hand-picked by APV to apply NeverFade paint on both residential and commercial structures. These individuals will receive tremendous marketing support from our company including consumer marketing materials, publicity backing, website enhancements and both residential and commercial project presentation packets."
According to Brown, the Pro-X Certified Contractors program is designed to qualify top-notch contractors with the product and support for providing their projects with an exterior paint that surpasses all others in the market. The program is free and professionals approved for the program will be certified to apply the water-based, low VOC NeverFade paint.
"This program opens up a multitude of business growth opportunities for contractors and painters nationwide," says Brown. "Pro-X Certified Contractors applying this paint have a unique competitive advantage in their marketplaces. We expect sales for these approved contractors to skyrocket with their ability to bring this superior exterior paint to their commercial and residential customers."
Ron Rooker, of Ron's Painting in Fort Myers, Florida, is one of the first Pro-X Certified Contractors. He's used the paint on several projects and believes it has helped elevate his business.
"As a painting contractor, this is the product my clients and I have been waiting for," says Rooker. "In Florida, harsh UV rays and algae growth are major issues and NeverFade is the answer. This paint supports a level of quality that is up to par with the service that I provide."
With more than 20 years painting experience, Rooker knows his customers. He believes that, in addition to benefiting homeowners, he'll see great demand for new business related to NeverFade paint from property managers of condo associations and town homes. Given the long life span of the paint and the substantial warranty, Rooker believes the paint will be viewed as an investment.
NeverFade paint includes Kynar Aquatec resins which enhance the paint's ability to withstand harsh thermal, chemical and ultraviolet environmental conditions. The paint may be applied to vinyl siding, PVC, wood, aluminum siding, stucco, masonry, and fiber cement surfaces. Since each paint order is custom made, NeverFade is available in an unlimited number of colors. The paint is backed by a 15-year warranty against fading that covers both the cost of the replacement product and job-related labor.
To become a Pro-X Certified Contractor, professionals should visit http://www.apvcoatings.com/contact_us.html or contact Erin Brown at 800-772-3452.
Founded in Akron, Ohio in 1878, APV Engineered Coatings manufactures innovative, custom engineered products that are sold worldwide to a wide variety of industries. For more information on products and services, visit http://www.apvcoatings.com or call 800-772-3452.
NeverFade paint is sold under a trademark license from ARKEMA INC. which is the owner of the KYNAR and KYNAR AQUATEC Trademarks.
Photos at: http://mediaroom.apvcoatings.com/multimedialist.php
###