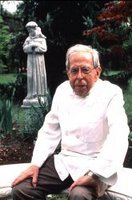 a nice ambiance and good honest food at affordable prices.
Great Falls, VA (Vocus) June 6, 2010 - -
François Haeringer, the founder and owner of L'Auberge Chez François in Great Falls, Virginia, died Thursday, June 3, from complications due to a hip fracture. He was 91.
A daily presence in the restaurant that bears his name, Haeringer was a pioneer when he opened the original Chez François in the heart of Washington DC in 1954. Haeringer's goal was to operate a restaurant with "a nice ambiance and good honest food at affordable prices." The restaurant's enduring popularity is a testimony to his success with this approach.
In 1975, the Claridge Hotel, which housed Chez François, was sold to make room for an office building. Instead of retiring at age 57, Haeringer decided to fulfill his dream of opening an "auberge" – a family inn prevalent in his native Alsatian countryside. After finding the perfect six acres of rolling green hills in Great Falls, L'Auberge Chez François opened in 1976, and became a family business. Eldest son Jacques, by then a chef in his own right, became Chef de Cuisine. The dining rooms are filled with Haeringer family heirlooms and murals depicting scenes of Haeringer's place of birth, Obernai, France.
"We opened L'Auberge Chez François with the intention of serving about 75 people a night. My mother was going to prepare the pastries, and my father and I together were to do all the cooking," son Jacques remembers. "The first night was a bit of a disaster. Papa could not say no to so many of his loyal customers and the restaurant was overbooked. Needless to say, the first seating of dinner was not as smooth as we planned. Mercifully, a thunderstorm knocked out the power so patrons who arrived later had to be sent home without supper. It was clear that Papa's popularity had followed him."
Haeringer was born January 6, 1919 in the Alsatian town of Obernai, France just after the end of the First World War. As the first child born in Alsace after the region was returned to France at the end of the First World War, he received the name François. He started cooking at age 16 and worked as an apprentice in a local restaurant. Three years later, he went to Paris to work at the famed Hotel Plaza Athenee.
When the Second World War started, he joined the French army and was captured by the Germans. Because of his cooking skills, he was sent to work at the Four Seasons hotel in Munich. After the war, François returned home to France where he met his future wife Marie-Antoinette.
In 1948, Haeringer received his American immigration visa and took his new family to Washington, D.C. to work in his uncle's restaurant. He was young and spoke no English but soon mastered both the language and the palates of Americans. He left Washington in 1950 and moved to Ketchikan, Alaska to run a hotel kitchen on the frontier. Following the birth of their first son, the family returned to Washington, D.C. where Haeringer began working at the Three Musketeers on Connecticut Ave. In 1954 he took over the restaurant naming it Chez François. The restaurant made a name for itself serving more than 500 meals a day to hungry Washingtonians both famous and those who were just fans of simple, expertly prepared, classic French fare.
Today L'Auberge Chez François is much the same as when François "Papa" first opened it. Family run, with son Paul as the restaurant's sommelier and Jacques as Chef de Cuisine, Haeringer's spirit as well as his meticulously crafted meals infuse every aspect of the restaurant. He was a culinary icon in the Washington, D.C. community and he helped to set the standard for authentic French food that satisfied your appetite and your soul in a restaurant known for marriage proposals, celebrations of all kinds, and family memories.
L'Auberge Chez François is open today, and the Haeringer family will continue running L'Auberge Chez François. As Jacques state "Papa would have it no other way."
François Haeringer is survived by his wife Marie-Antoinette, and their sons Jacques, Robert, and Paul, and four grandchildren. Funeral services will be held Thursday, June 10 at 11:00 am at St. Catherine's Church in Great Falls.
###