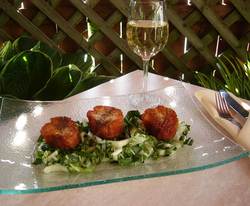 "Menu labeling," says Chef Valenza, "claiming scallops are day-boat or diver scallops may not be a reliable indicator of whether the scallops being served are fresh and unadulterated."
Pennington, NJ (PRWEB) June 7, 2010
According to Za Restaurant Chef/Owner Mark Valenza a common preservative used to extend the shelf life of deep water scallops has diners wondering if what they're being served has gone bad or been contaminated.
Recent events have raised concerns about where seafood is caught or raised, how it is processed, and what methods are used to maintain freshness and prevent contamination.
The National Marine Fisheries Service, part of NOAA, is not reporting any current scallop bed contamination. The Atlantic sea scallop population remains high and no overfishing is occurring. New Jersey scallops beds are managed under the Atlantic Sea Scallop Fisheries Management Plan to maximize scallop yields and protect the beds of young scallops.
"Menu labeling," says Chef Valenza, "claiming scallops are day-boat or diver scallops may not be a reliable indicator of whether the scallops being served are fresh and unadulterated."
The northeast has the largest wild scallop fishery (Placopecten magellanicus). "The New Jersey scallop beds are a national culinary treasury," says Chef Valenza. "I hate to hear anyone has been served an inferior product. It casts suspicion over what should always be premier seafood experience."
Scallops range in both size and quality. The primary differences are ocean (large) and bay (small); fresh and frozen; and day-boat (dry) and preserved (wet). Frozen scallops may be of excellent quality but mishandling, especially during the thawing process, serves up an inferior morsel.
"My special wrath," says Chef Valenza, "is saved for those processed scallops that are preserved." Atlantic scallops are preserved with sodium tripolyphosphate (STP) to maintain their moisture during processing and shipping. But the treatment leaves an offensive side effect.
Have you ever had scallops that taste soapy or like iodine? Then you've had preserved (wet) scallops. Buying fresh scallops? If they're as white as a toothpaste model's smile and/or swimming in liquid, they're probably preserved.
Here's the problem, many places play the game of passing off preserved scallops as "day-boat" fresh scallops. This switch can happen at the fish market, wholesale distributor, at a local restaurant or restaurant chain. It's been going on for years. The reason is cost and availability.
Chef Valenza admits to being wary of ordering scallops when he dines out, especially when the price is out of whack with what a true, fresh, unpreserved day-boat scallop should cost.
Here's why they call them day-boat and why they cost more. Simply put, as the last scallops caught before the boat returns to port, they haven't been on the boat for more than a day and they have not be treated with preservatives.
True day-boat scallops can't travel far because they won't last more than a few days. But you'll never taste a better scallop.
At Za, freshly delivered scallops are tested to make sure they haven't been treated with STP. "We know, just by how they cook," according to Chef Valenza, if they have been treated they don't sear properly.
Chef Valenza insists that he will continue to serve scallops at Za Restaurant, so long as he can assure diners they are the real thing.
Za Restaurant, 147 West Delaware Avenue, Pennington, NJ 08534, 609-737-4400. http://www.ZaRestaurants.com . BYOB, open seven days, outdoor dining available.
###