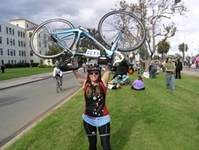 Loree is a testament to the power of activism and how it can make a difference in the lives of others
Newport Beach, CA (Vocus) June 5, 2010
Loree Glenn, a Mission Viejo, California mother of two is gearing up for the start of the AIDS/Lifecycle event, a grueling seven-day, 545-mile bike trek from San Francisco to Los Angeles starting this Sunday. The ride is designed to end the pandemic and human suffering caused by AIDS. This marks the third year of Loree's trek and the third year the Newport Beach Personal Injury Attorneys of BISNAR | CHASE have sponsored her efforts. The trek begins Sunday, June 6 and ends Saturday, June 12, 2010.
The ride raises funds to support the HIV/AIDS services of the L.A. Gay & Lesbian Center and the San Francisco AIDS Foundation, as well as to increase awareness and knowledge about HIV/AIDS among the ride's participants, donors and the general public.
Working closely with Loree's husband, Kevin, BISNAR | CHASE will monitor her progress along the grueling course with photos, videos and blog articles posted daily as she pushes herself over hundreds of miles of terrain, including California's scenic Pacific Coast Highway 1. What's more, Loree's route will be monitored via Google Earth, so followers can see exactly where she is at any given time along the trek.
John Bisnar, founder of the BISNAR | CHASE law firm, says he is extremely moved by Loree's and her family's dedication and determination to help such a worthy cause.
"Loree is a testament to the power of activism and how it can make a difference in the lives of others," said Bisnar, "as is that of her family in supporting her." "This ride is such a commitment, such a challenge and such a personal sacrifice. Not only are we in awe of Loree's dedication to this cause, we're extremely proud to be her corporate sponsor. We're also very excited to monitor her progress along this grueling course."
With the support of her husband and two teenage sons, Loree will make this trip for the third time, an experience she views as an extremely personal, mental and physical challenge to raise money for a great cause.
"For my first ride in 2008, I went from zero bicycling experience to training for a 545-mile trip," said Loree. "During that ride, I had problems with my knees and I ended up in the hospital with the stomach flu but I was determined to finish and I did."
Loree says she prepared much more extensively for her second ride in 2009, including training for almost a full year versus just four months the year prior, implementing yoga and pilates into her program, and riding three to four times a week along sections of the 1984 Olympic bike route in Mission Viejo. However, despite all of her preparation, last year's ride still presented Loree with some significant challenges.
"I had to overcome two back-to-back hills known as the 'evil twins' and one day, I rode an excruciating 94 miles," said Loree. "On top of that, I ran into some gravel, fell off my bike and had to be picked up by a sweep vehicle and taken to a rest area. Even still, it was the most fun and rewarding experience of my life."
To follow Loree along the AIDS/Lifecycle course, be sure to visit (websites where people can follow her progress listed here). To make a donation, visit Loree's personal AIDS/Lifecycle web page.
About BISNAR | CHASE
BISNAR | CHASE Auto Accident Attorneys represent people who have suffered personal injury or wrongful death due to an accident, defective product or negligence. The law firm has recovered hundreds of millions of dollars for its clients since 1978 by winning a wide variety of challenging personal injury cases involving traffic accidents, work place injuries and defective products, including defective automobiles, against some of the world's largest companies and governmental agencies. Additionally, the law firm represents people who have been seriously injured or lost a family member due to all types of cycling accidents, including bicycle accidents involving cars, bicycle accidents involving other bicycles, dangerous road conditions and defective bicycle components.
###