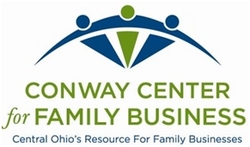 Columbus, Ohio (Vocus) June 8, 2010
The Conway Center for Family Business announced the launch of an upgraded and expanded website. The site is an educational resource and destination for family businesses, providing business consulting and information about pertinent topics, including succession planning, business strategy, business expansion, and management of generational issues and challenges.
The Conway Center site will provide a centralized hub for information that will help family businesses grow and succeed. The site includes information about local business networking events and educational programs, case studies and current news about family-owned businesses.
Family business leaders also will find information about opportunities to participate in peer groups, to be recognized for their accomplishments in the twelfth annual awards program, and links to resources that cater to family business needs.
The site was designed by huber+co. interactive, a division of Paul Werth Associates and a Columbus-based firm specializing in digital marketing, web site development, visualization, social media and search engine strategies. The site incorporates connections to Facebook, Twitter and LinkedIn that enhance a social media strategy created for the Conway Center by Webbed Marketing, a Columbus firm focused on search engine optimization, paid search and social media strategies.
For more information about Conway Family Business Center, visit http://www.familybusinesscenter.com.
More information about huber+co. interactive and Webbed Marketing can be found at http://www.huberandco.com and http://www.webbedmarketing.com.
About the Conway Center for Family Business
The Conway Center for Family Business is Central Ohio's leading resource for educational programs, resources and networking opportunities to support the growth and success of family-owned businesses. The Center celebrates the successes of family-owned businesses at its annual awards program and offers peer group opportunities for next-generation leaders, family business leaders, and women family business owners. The organization includes more than 100 family-owned businesses from Central Ohio.
###