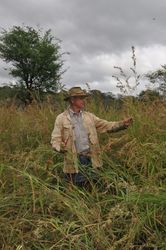 We now have year round water a kilometer higher than we have ever known it to exist. Women and children in our community no longer walk long distances to bring water back to their families. Holistic Management works and can change the world. Allan Savory
Albuquerque, NM (PRWEB) June 5, 2010
Operation Hope, a project which is combating one of the major causes of climate change by transforming parched and degraded Zimbabwe grasslands and savannahs into lush pastures with ponds and flowing streams, even during periods of drought, has been named the winner of the 2010 Buckminster Fuller Challenge. Operation Hope was awarded $100,000 to further develop its work at a ceremony Wednesday at the National Press Club in Washington DC.
Operation Hope is a project of the Africa Centre for Holistic Management in Zimbabwe and its sister organization, the Savory Institute in Albuquerque, NM. Its successful approach to land management contradicts accepted practice and theories of resting land from animal grazing. Allan Savory, founder of Holistic Management as well as the Savory Institute and the Africa Centre for Holistic Management, has stood up to 40 years of scrutiny. Fellow scientists have called him mad for agreeing that livestock are indeed causing climate change, but arguing that they are also our only tool to save the planet from its current state.
Savory's Holistic Management re-establishes the symbiotic balance between plant growth and the behavior of herding animals. Holistic Management uses livestock to turn deserts into thriving grasslands, restore biodiversity, bring streams and rivers back to life, increase food production and security and store carbon in ever deeper and healthier soils thereby combating global climate change. The approach is currently being practiced and producing results on over 30 million acres worldwide. And the scientists, NGOs and governments who once shunned him are coming to his centre in search of answers.
"Our work proves that we do have the ability to simultaneously better mankind's experience while bettering the Earth," said Allan Savory. "We are thrilled that the Buckminster Fuller Challenge exists to recognize and support work such as ours, and thank the jurors for this honor."
In a twist of events at the award ceremonies, Savory Institute CEO Shannon Horst announced that the Savory Institute plans to create a way to track the income earned from the Buckminster Fuller Institute's gracious gift and return a percentage of that income back to the Institute. "One deep value of our company is to live in a world of abundance. And to live in that world, we have to act out of abundance." shared Horst. "It is crucial that we return the support we have been given and help the Buckminster Fuller Institute continue to encourage people to think differently."
# # #