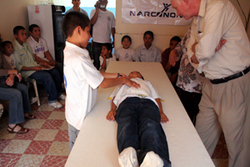 "Drug addiction cannot be fought with guns,"
Los Angeles, CA (PRWEB) June 5, 2010
President Narconon International, Clark Carr, just finished his fourth tour of Mexico in less than two years, bringing unique Narconon® drug-free withdrawal and relapse prevention technology to Mexico. Accompanied by U.S. and Mexican volunteers, Carr demonstrated pain reduction and emotion-calming techniques to men's and women's facilities in Guaymas, Sonora and Uruapan, Michoacan as well as to street children, under rehab protection and help in Michoacan.
"The purpose," says Carr, "is to show up with real help when and where help is needed. Every man, woman, and child we assist to come off and stay off drugs in Mexico will be one less person for the drug-cartels to feed off. While others fight them with guns, as may be necessary, Narconon is pulling the rug out from under their boots -reducing drug demandfirst step workshop."
Mexican daily newspapers trumpet continued killing and acts of wanton cruelty, most traced to warring drug cartels. The head of the PRD, Mexico's ruling political party, was kidnapped only a few weeks ago. It is all about drug money, but not all coming from sales in the U.S. Mexico now has its own burgeoning drug problem -- Mexican-manufactured 'hielo' (ice), the smokable variant of meth. Heroin, from Mexican-grown opium. Of course, alcohol, still the world's most abused drug, and then glue and other inhalants 'huffed' in glue-smeared cloths by children abandoned by drug-addicted parents or, worse, sent to the streets to beg and spy on gossip for the cartels.
"Drug addiction cannot be fought with guns," says Dr. Julio Marquez, Guaymas surgeon and emergency room doctor. "We need to address the problem at its root. That is why we asked Narconon to come down and show us its new simple, teachable tools to help our local rehabs and prisons." First step guaymas
The Narconon First Step is a compact tool kit, composed of data on effective non-pharmaceutical nutritional supplements, hands-on "assists" that reduce pain and manage emotional and mental discomfort and disorientation, communication skills, and The Way to Happiness, a non-religious guide to common sense rational choices to make in life, by author and philosopher L. Ron Hubbard. "These are practical tools," said Arturo Angel Medina, director of Uruapan's Providencia rehab group, "You can see it in the happier faces. Narconon and its help is welcome back anytime." "Yes, God bless Narconon for coming," said Leticia, Arturo's director of the Providencia children's rehab. "Come back soon." Narconon will, says Carr, very soon. Much more to do.
For more information on Narconon and the First Step program, visit http://www.narconon.org or call 323-962-2404
# # #