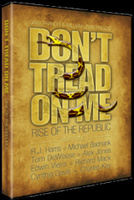 a blueprint for insuring people...have the knowledge to do something about it.
Columbia, MO (PRWEB) June 9, 2010
The amount of power the government has awarded itself in launching a global war on terror along with the increase in surveillance here at home isn't covered much on the nightly news, but it should be.
What does the Constitution say about your rights as a citizen? What is the difference between a "right" and a "privilege?" What is the proper role of the government? These are just some of the questions asked (and answered) in the film "Don't Tread On Me" - the new release by William Lewis and Gary Franchi ("Camp FEMA").
"Don't Tread on Me" takes a critical look at the rapid erosion of civil liberties at a time when our most basic freedoms are very much in peril. Set for a June 2010 release on DVD, this highly anticipated film features interviews with top Constitutional authorities, as well as local political activists and active politicians.
Viewers will get insights from such notables as; author and constitutional expert Dr. Edwin Vieira, former Arizona Sheriff Richard Mack, former Presidential Candidate Michael Badnarick, Oklahoma State Representative Charles Key, Missouri State Representatives Cynthia Davis and Brian Nieves and State Senators Jim Lembke and Gary Nodler. Also featured in the film is popular radio talk show host Alex Jones.
Director William Lewis calls his latest project, "a blueprint for insuring that people like you, me and the grassroots efforts affectively target what's wrong with the politics in this country and have the knowledge to do something about it."
While "Don't Tread On Me" gives the viewer a clear understanding of just how difficult the road ahead will be, both Lewis and Franchi are hopeful that when people get to understand what their rights are and everyone gets involved, a positive change can be made.
That's why they're asking activists and constitutional advocates from across the country to hold screenings in their home, public library, or local cinema on Saturday, June 26th when they kick off simultaneous screenings nationwide of "Don't Tread on Me."
Along with the screenings, the filmmakers are also offering those who purchase the DVD from the official website the ability to make copies to distribute the film in a viral hand to hand campaign.
For more information, please visit DontTreadOnMeMovie.com.
Media Contact: Debbie Morgan 573-378-9123 debbie(at)bridgestonemediagroup(dot)com
###