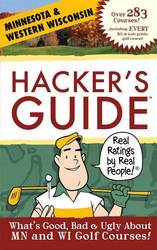 "We want someone that joins Team Hacker to understand how an average player enjoys a golf course. After all, they are our ambassadors."
Minneapolis, MN (PRWEB) June 8, 2010
Hacker's Guide, a Minneapolis-based golf course rating organization that is in the process of rating more than 680 public 18-hole golf courses across the Upper Midwest, has just surpassed 650 avid golfers who have responded to its call for golf course raters.
"This is the only golf course rating system in the country that rates a golf course on sixty unique factors and then writes a 400-word review on every course," said publisher Bruce Stasch. "Our team of independent golf course raters do a great job of assessing a course from the perspective of a lightly-skilled golfer, more traditionally referred to as a hacker."
Something unique to the golf industry is Team Hacker. This is a group of independent golfers that love the game and want to give back to it in some way. As volunteer representatives of Hacker's Guide, each Team Hacker member goes through a 5-step assessment process, including a one-on-one interview, before they even set foot on a course. In addition to their golf abilities, they are also selected for their commitment, writing and objective observational skills. "We want someone that understands how an average player enjoys a golf course," said Eric Hart, Director of Golf. "But we are also very selective of our members. After all, they are our ambassadors and we want to make sure that they represent the Hacker's Guide in the most professional way possible. We want the industry to recognize our legitimacy and realize our absolute concern for accuracy in representing each course with our ratings and reviews."
The Hacker's Guide is now is in its third year of rating golf courses across the Midwest. During its first year Team Hacker rated 87 golf courses in the Twin Cities. In its second season they rated 283 courses and in the current season, a team of 60-100 Team Hacker members will be rating EVERY 18-hole public golf course across Minnesota, Wisconsin, Iowa, North & South Dakota for a total of 680+ courses over three years.
Many good to great local courses never get the attention they merit, overlooked by the big media organizations, or too far from major metropolitan areas to receive their due recognition. For comparison, the leading golf course review guides are GolfWeek (which only covers the Top 100 courses in any category) Zagat's, and Golf Digest (which ceased publishing a ratings guide in 2006 and only has them online). For the state of Minnesota, Golf Digest listed 121 courses, Zagat's only 17. Hacker's Guide lists 248 courses.
Each course is rated on 60 different factors and the Hackers Rating System is designed to assess each course on five different categories: Hospitality, Playability, Usability, Facilities and Value. These categories are then "weighted" and a final score (out of 1000) is given to a course. In addition, each course then receives a 400-word descriptive review of the experience.
"I read several national golf magazines and cannot relate to $200 green's fees and $300 a night resorts they feature," said Team Hacker member Dennis Delmont. "As a retired police officer, I have time to play now and, as a Team member, I have the opportunity to play courses that are available, affordable and playable for someone with my limited skills and budget."
Even golf courses seem to like Hacker's Guide. "The guide is really accurate and a good reflection of our course," said Beth Bloomquist, clubhouse manager of Viking Meadows in East Bethel, Minnesota. "It gives people access to our course so they have an idea of what they can expect when they get here. Playing for the first time is no longer intimidating."
Hacker's Guide golf course ratings use a totally new and elaborate rating system that is completed by regular golfers who simply love the game. In preparation for the third book in the series, more than 650 golfers signed up to be a part of Team Hacker. "Getting selected to join Team Hacker has become an honor because we only take about 8 percent of those that have shown interest," said Stasch.
The Hacker's Guide to Minnesota & Western Wisconsin Golf Courses is currently available in stores now, and the Hacker's Guide 5-State Guide to Midwest Golf Courses will beginning in 2011.
###