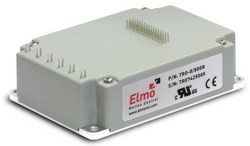 At Elmo we have always endeavored to develop products that truly bring an added dimension to the market. In the case of the Trombone we were able to release a high voltage drive that operates directly from the mains with remarkable power density
Tel Aviv, Israel (PRWEB) June 8, 2010
Elmo Motion Control continues to innovate and update its SimplIQ line of compact, high power-density digital servo drives. One of the most important new features that the Trombone brings to the SimplIQ Line of servo drives for industrial applications is the ability to operate from a very high voltage power source, without a transformer, using a "direct to mains" connection to a 400 VDC or 750 VDC power source.
The Trombone's dimensions are just 110 x 75 x 30 mm (4.3" x 2.95" x 1.2") making the high power (up to 7 kW of continuous qualitative power) and voltage combination quite remarkable. With its small footprint, the pin-based Trombone can be PCB-mounted or integrated within the motor.
Haim Monhait, CEO of Elmo Motion Control, noted the following: "At Elmo we have always endeavored to develop products that truly bring an added dimension to the market. In the case of the Trombone we were able to release a high voltage drive that operates directly from the mains with remarkable power density and efficiency ratings, while maintaining a very small footprint. One of Elmo's most significant messages to engineers regarding our super-compact servo drives is that they can be mounted anywhere. The Trombone is totally in line with this philosophy and it enables significant space savings to be made."
"The SimplIQ Trombone is ideal for integration into any motion system, either single- or multi-axis, and it results in a high performance motion control unit."
There are two DC bus options: 80 – 400 VDC and 200 – 750 VDC, with a built-in smart supply for controlling the back-up capabilities. The Trombone can also operate with a 24 VDC auxiliary power supply for the back-up features.
The Trombone operates with sinusoidal, trapezoidal and DC motors, and is truly feature-rich, combining high power density, programming flexibility, CANopen networking and numerous motion control features, resulting in a very effective solution for a wide variety of challenging applications.
When using a number of SimplIQ Trombones in a multi-axis application, Elmo's multi-axis controller, the Gold Maestro, can be used to control the network of servo drives.
About Elmo
Elmo Motion Control has 20 years' experience in developing motion control solutions based on ultra-compact, high power density digital servo drives and analog servo amplifiers for industrial and military applications. The product range also includes innovative, networked, multi-axis controllers and EtherCAT-ready solutions.
For more information about the SimplIQ Trombone, http://www.elmomc.com/products/trombone-servo-drive.htm
# # #