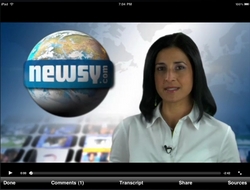 Our first iPad app rocketed up the rankings because we designed it specifically for the iPad
Columbia, MO (PRWEB) June 7, 2010
Newsy, a multisource video news service producing daily videos for mobile devices and the web, today debuted an advanced new version of its free iPad app. Since Newsy launched its iPad app in April, it has held a top 15 ranking (reaching all the way to #1) and garnered some of the best user ratings of all the leading news apps.
The new version of the app, based on suggestions from Newsy app users, is built specifically to maximize the features of the Apple iPad. Users can now download Newsy videos and play offline in both standard and high quality as well as scroll past 20 stories in landscape mode and portrait mode. In addition, playlists now automatically save and seamlessly play through from video to video.
"Our first iPad app rocketed up the rankings because we designed it specifically for the iPad," explains Newsy President Jim Spencer. "Our goal is for Newsy to become synonymous with the words 'mobile video news.' Apple's iPad is a fast-growing platform that allows us to innovate quickly to win customers looking for an exceptional on-the-go news experience."
The Newsy App for iPad is available for free from the App Store on iPad or at http://itunes.apple.com/us/app/newsy-for-ipad-multisource/id367718944?mt=8
A news analyzer, not an aggregator, Newsy offers context with convenience for on the go news users. In 2- to 3-minutes videos, users understand the differences in coverage from media outlets from around the world as well as discover new sources they would not have found on their own.
About Newsy
Newsy ( http://www.newsy.com ) is a multisource video news service that analyzes the world's news coverage and highlights the key differences in reporting. Through short videos available on the web and mobile devices (iPhone, iPad, Android-based smart phones and Intel Atom-powered netbooks), Newsy accelerates the understanding of how a news story is covered.
# # #