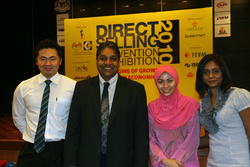 QuestNet is proud to be a platinum sponsor for this event
New York, NY (Vocus) June 8, 2010
QuestNet recently announced its participation in the upcoming Direct Selling Convention and Exhibition 2010 (DSCE 2010) organised by the Malaysian Ministry of Domestic Trade, Co-operatives and Consumerism, in collaboration with the Malaysia Direct Distribution Association (MDDA) and the Direct Selling Association of Malaysia (DSAM).
At the soft launch of DSCE 2010 that was held recently in PutraJaya by the Minister of Domestic Trade, Co-operatives and Consumerism, Dato' Sri Ismail Sabri Yaakob, QuestNet was awarded a plaque and certificate of appreciation by the Ministry for being a Platinum Sponsor of the event.
This event is designed to raise public awareness of the direct selling industry in the country, while highlighting its important role as an engine of growth in the Malaysian New Economic Model. As part of the convention, there will be a panel discussion to address the proposed amendments to the Direct Selling Act currently being read in Parliament. With these amendments, the Direct Selling Act will be officially known as the 'Direct Sales & Anti Pyramid Scheme Act, 2010', tentatively scheduled to come into effect by the third quarter of the year.
"QuestNet is proud to be a platinum sponsor for this event," said Mr Navaratnam, General Manager of QuestNet Malaysia. "We commend the Ministry in its objectives of highlighting the importance of direct selling as an industry and profession. We are also appreciative of the Ministry's efforts in tightening up the laws surrounding direct selling, which will enable responsible direct selling companies to thrive, and make it easier for the public to recognise illegal pyramid schemes, which have unfortunately sullied the name of the Direct Selling industry," he added.
As platinum sponsors, QuestNet will be showcasing its products and services at Menara PGRM, Cheras, Kuala Lumpur on 12 June 2010, from 8.30am to 10.00pm.
About QuestNet
QuestNet is an international direct selling company established in 1998. Operating a global sales force, QuestNet offers a high-quality product portfolio consisting of innovative lifestyle products, including consumable and everyday items, personal care and wellness products, luxury and collectible items, vacation packages, and telecommunications.
QuestNet also provides business opportunities to millions of people around the world by offering entrepreneurial aspirants the opportunity to run their own business through an e-commerce platform, to promote the company and its products. QuestNet provides its representatives with the requisite training and business tools to succeed, and champions professional business and marketing practices at both corporate and network levels. Driven by the mission of RYTHM (Raise Yourself To Help Mankind), QuestNet is an active contributor to the support and sustainability of the communities in which it operates.
To learn more about QuestNet, visit http://www.quest.net.
# # #