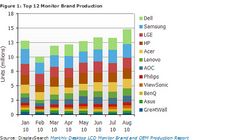 Analysis of the LCD monitor supply chain shows that brands are bullish on the seemingly mature monitor market mainly due to continued growth of first time PCs purchased in China, as well as corporate PC refresh cycles in mature markets
Santa Clara, CA (Vocus) June 8, 2010
Worldwide LCD monitor production in May neared all time monthly highs with the top 12 brands producing 12.7M monitors in the period. Monthly production plans for August currently show 14.8M units in the pipeline for production, putting January–August 2010 production 19% above production rates for the same period in 2009, as noted in the new DisplaySearch Monthly Desktop LCD Monitor Brand and OEM Production Report.
"Analysis of the LCD monitor supply chain shows that brands are bullish on the seemingly mature monitor market mainly due to continued growth of first time PCs purchased in China, as well as corporate PC refresh cycles in mature markets," notes Chris Connery, Vice President of Personal Computer Displays at DisplaySearch. "Current production plans indicate that, in spite of the push towards mobile computing, there is demand for larger size, external displays for all types of computing applications, leading to the conclusion that desktop computing is far from dead."
Evidence of the bullish outlook for Chinese domestic sales comes from increased production plans from major Chinese brands such as Great Wall and Lenovo, as well as other Asian brands focused on sales in China, such as AOC. Chinese brands such as Great Wall and Founder, which are hardly household names outside of China, are becoming increasingly important to the global market for LCD monitors. This is exemplified by the movement of Great Wall from the #16 brand in the world in Q4'09 to #11 in Q1'10, and it is now poised to move into the top ten this year.
While economic turmoil continues in Europe, evidence of B2B corporate PC refresh cycles is still being seen worldwide. Brands such as Dell, which are highly focused on corporate PC sales, seem to be reflecting this bullish outlook in production demand to their OEMs, raising their current production plans 23% from July to August.
The increased demand from brands to their OEM production partners is being reflected in increased production plans from the world's top nine monitor producers which are on track to see their highest monthly production rate ever in June. The two largest producers of LCD monitors, TPV and InnoLux (now part of the Chimei Innolux Corporation), plan to increase production 13% and 6%, respectively, from May to June.
The new DisplaySearch Monthly Desktop LCD Monitor Brand and OEM Production Report is the most comprehensive monthly look at the $25B market for external displays used for personal computing. The report includes detailed production plans by brand as well as by OEM on a historical basis and with production plans three-months out. Also included is a snapshot of OEM production by various size/resolution groupings to allow for procurement and senior managers to have the most-detailed and up-to-date information in this dynamic market on a monthly basis. The report is delivered with Excel pivot tables and Excel charts. For more information, contact Charles Camaroto at 1.888.436.7673 or 1.516.625.2452, e-mail contact at displaysearch.com or contact your regional DisplaySearch office in China, Japan, Korea or Taiwan.
About DisplaySearch
Since 1996, DisplaySearch has been recognized as a leading global market research and consulting firm specializing in the $770 billion display supply chain, as well as the emerging photovoltaic/solar cell industries. DisplaySearch provides trend information, forecasts and analyses developed by a global team of experienced analysts with extensive industry knowledge and resources. In collaboration with the NPD Group, its parent company, DisplaySearch uniquely offers a true end-to-end view of the display supply chain from materials and components to shipments of electronic devices with displays to sales of major consumer and commercial channels. For more information on DisplaySearch analysts, reports and industry events, visit us at http://www.displaysearch.com. Read our blog at http://www.displaysearchblog.com and follow us on Twitter at @DisplaySearch.
About The NPD Group, Inc.
The NPD Group is the leading provider of reliable and comprehensive consumer and retail information for a wide range of industries. Today, more than 1,700 manufacturers, retailers, and service companies rely on NPD to help them drive critical business decisions at the global, national, and local market levels. NPD helps our clients to identify new business opportunities and guide product development, marketing, sales, merchandising, and other functions. Information is available for the following industry sectors: automotive, beauty, commercial technology, consumer technology, entertainment, fashion, food and beverage, foodservice, home, office supplies, software, sports, toys, and wireless. For more information, contact us or visit http://www.npd.com and http://www.npdgroupblog.com. Follow us on Twitter at @npdtech and @npdgroup.
Media Contact:
Stacey Voorhees-Harmon
SAVVY Public Relations
Phone: 925-336-9592
E-mail: stacey(at)savvypublicrelations(dot)net
###