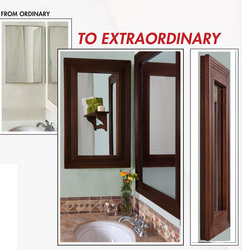 Fantsy Facade provides a fresh new look for a those tired metallic-rimmed builder grade medicine cabinets. And they are so easy to install!
(PRWEB) June 9, 2010
Fantsy Façade ™ is a patent-pending solid wood framing system that transforms 'tired and dated' to 'classic elegance' in minutes. It won't bind the hinge and it fits tight corners too! Easy to install – it SLIDES onto the door yet is secure once mounted. Once installed it appears flush to the wall… just like a built-in cabinet. Medicine cabinets built to specific customer-defined dimensions are custom-made and retail from $400 to $800. Fantsy Façade prices range from $90 to $150, and come in a variety of finishes and molding detail. Stains are hand-rubbed, providing a lustrous finish that highlights the wood grain. Fantsy Facade provides the customer a rich look without the rich price, and what better way then to only add value to the part that counts… the door. Now the customer can have it all without paying full-price for an entire custom cabinet. Instead of Replacing, try Refacing with Fantsy Façade ™ and provide a green solution to a tired cabinet that deserves a 2nd chance. Finally, a solution with the customers' desires and budget in mind.
Fantsy Façade™ was invented by Susan Brink, a supply chain manager turned inventor. Tired of her builder-grade medicine cabinet and frustrated with the limited metal and glass alternatives that would fit the tight corner, Susan invented Fantsy Façade (also the company name). Fantsy Façade is built by cabinet manufacturers in the Valley of the Sun. It is sold on the internet at http://www.fantsyfacade.com (1-800-266-8125). Fantsy Façade frames are carried in the following showrooms: Cohaco Building and Supply (Glendale), Sunset Tile & Bath (Glendale), Desert Hills Enterprises (Apache Junction) and Desert Breeze Glass (Mesa). Fantsy Façade is expanding into more stores, please call for location nearest you.
What people are saying about Fantsy Facade:
"It's so clean and fresh looking. My medicine cabinet is the same ugly thing as they show in the before pictures". Karen from Ohio
"OMG this is exactly what I need! I have a hideous medicine cabinet in my master bath that I inherited from the previous owners. So cute!" Lydia
"LOOOOOVE It!!!" Ruth in Nevada
"I have the Legacy style in Dover White, looks great in my un-renovated 1950's bathroom" Karen from Texas.
"Lovin this one! I was in desperate need of this for my SMALL bathroom with the BLAH mirror:)" Becky from Alabama
"This is BRILLIANT!!! I love the Vintage Moulding in Dover White for one bathroom. But I love the Vintage Moulding in the Light Blue for my guest bathroom. For my master? I'd have to do something in the Burnished Walnut, I think. I live in a suburb of Phoenix and we just bought a bank owned home. It needs some love. Badly." Heather from Arizona
"OMG!!! Must. Have. This. I live in Philadelphia, and I have the same busted old medicine cabinet and ginormous vanity mirror. Yuck." Kelly from Pennsylvania
"Love Love Love". Kristina from California
"The Vintage frame in white would definitely solve my last problem in the bathroom in our circa 1930 bungalow, which had suffered from a very bad 1970's remodel by the previous owners. We have been lovingly trying to restore it's 1930's charm on a limited budget–and the last ugly thing in my bathroom is the medicine cabinet. Thought about replacing it with a reproduction one, but the recess is never the right size and ours has a partial tile surround that made me hesitant to cut into the wall. In my mind, the solution has been to frame it, but I couldn't figure out how to make the molding stay on–clips, glue? These folks at Fantsy Facade have read my mind! Love it!" Jean from Missouri.
"This woman is a genius! I would have to get 2 for my master bath and I would need unfinished maple in the Provencal trim…. I would love to get these because I despise my cabinets…. They are efficient but ugly right now". Rebecca from Kentucky
"I'm loving the Vintage Style in Burnished Walnut. I would LOVE to cover up the ugly edges of the medicine cabinets in our house, what a great idea!" Cindy
###