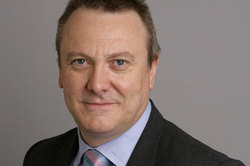 It is an honour to accept this position from Bournemouth University
(PRWeb UK) June 10, 2010
The BBC's new Head of Press & Media Relations, Paul Mylrea, has been appoined as a Visiting Fellow to the world-renowned Media School at Bournemouth University in the UK.
As Visiting Fellow, Mylrea will work closely with the University's Corporate & Marketing Communications academic group which focuses on public relations, corporate communications and political communications.
"It is an honour to accept this position from Bournemouth University," commented Paul Mylrea. "At a time when communication is becoming even more critical to build corporate reputation and maintain trust I look forward to sharing my knowledge and experience with both the students and my colleagues at the Media School."
Mylrea has had a distinguished career in journalism, governmental and non-government communications and made significant contributions to the UK public relations sector. He recently joined the BBC from his role as Director of Communications with the UK government Department for International Development. Last December, he became President-elect of the Chartered Institute of Public Relations for 2011.
Before joining DfID in 2007, he worked as director of group media relations at Transport for London and head of media at Oxfam GB. He has also worked as a journalist at Reuters.
At the BBC, Mylrea leads the press office and strategic communications functions and is part of a ten-strong communications steering group. He also serves as the BBC's official spokesman.
Paul holds a first degree (2:1) in French from Birmingham and an MBA from the Open University (OU). He continues to lecture at the OU and was an external adviser to BU's MBA (Media). He also holds chartered status as a public relations practitioner and manager.
"We're very pleased to appoint Paul Mylrea as a Visiting Fellow, "said Professor Tom Watson, Deputy Dean of BU's Media School. "He is one of the UK's most prominent and high-performing practitioners who will add significant value to the academic and professional activities of The Media School."
"There are few aspects of today's communications industry that Paul's career has not encompassed – from his time as a foreign correspondent in Latin America's crisis zones to the intrigue of the parliamentary lobby; from the perpetual problems of London's transport system and the bombings of July 7 to the politics of international aid," said Stephen Jukes, Dean of the Media School. "Paul has long been a great friend of the School and I very much look forward to working with him in the future."
Corporate & Marketing Communications Academic Group at BU - http://media.bournemouth.ac.uk/about/corpmarkcom.html
# # #