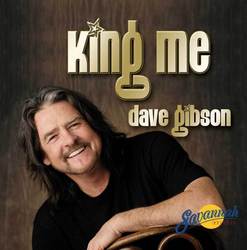 We are pleased to get this gem of a song and story out in time for Father's Day.
Nashville, TN (PRWEB) June 8, 2010
Just in time for Father's Day, musician, father and prolific songwriter Dave Gibson and Savannah Records release Gibson's new single "King Me." The new single is in the classic country story-telling mode, evoking memories of an intergenerational relationship between a grandfather and grandson. It is done in the classic manner that the former member of the Gibson-Miller band and CMA Award-winning artist likes the most: a long reminiscent piece with a surprise ending, delivered with Gibson's trademark irony.
Actually, the grandfather character is a probably a composite of Gibson's maternal grandfather, Judson Woodard, and that of Gibson's collaborator, Craig Monday, who came up with the song title, "King Me." The two songwriters were sitting on the porch of Savannah Music Group about a year ago, talking about old general stores and aging men who would sit around, cagily getting new people to play checkers with them, and in the process, grace the young people with wisdom and life lessons. Monday suggested the title "King Me," the term used when the checker is elevated to the status of king for reaching the opponent's baseline. Gibson later realized the accolade applied to their grandfathers as well. His Grandpa Woodward was a pharmacist who helped to raise and encourage him.
"Americans are hungry for stories, especially those that take us back to simpler times and strong emotions of love and the meaning of family that underscored the bonds between the generations," says Laurie Spoon, vice president of Savannah Records. "Regardless of whether our grandparents played checkers, chess, or took us on nature excursions, they shared their passions with us, and along with their unconditional love, those emotions made us the people we are today. I am so pleased we are able to get this gem of a song and story out in time for Father's Day."
A keening baritone with a wry sense of humor, Gibson has always been drawn to the classic narrative mode of country music, and especially enjoys the surprise ending to "King Me."
Gibson was born in El Dorado, Arkansas. When he was a toddler, his family moved to Odessa, Texas. From that time on, Gibson was intrigued by country music, in particular Texas songwriters Buddy Holly and Roy Orbison. Their influence can be seen is his vocal stylings.
For much of his career, Gibson was a sought after songwriter. In 1983 he landed a publishing deal with the Oak Ridge Boy's company, Silverline Music, and began co-writing with a who's who of hit makers. The industry took notice of the fledgling writer, and he started getting cuts by Steve Wariner, Joe Diffie, Confederate Railroad, Tanya Tucker, Alabama, Pam Tillis and Montgomery Gentry. He earned six number one songs, and Alabama's "Juke Box in My Mind" remained in the number one country music slot for four weeks.
Despite all the attention as a writer, Gibson's goal was to be a performer. In 1990, he teamed up with rocker Blue Miller, the famed guitar player for the Bob Seger Band. The duo formed the highly successful Gibson-Miller Band. They racked up critical reviews, sold out performances, and had multiple top ten hits. In 1994 they received the Academy of Country Music Award for New Vocal Group or Duo. The band toured together, pushing the envelope with cutting-edge country shows and landed a song in the feature film "The Cowboy Way," starring Keifer Sutherland and Woody Harrelson, with their remake of the hit "Mama's Don't Let Your Babies Grow Up to Be Cowboys."
Gibson now focuses his attention on songwriting and starting up the publishing company Savannah Music Group which he founded with Silicon Valley entrepreneur and start-up expert Jeff Cohen. A prolific writer, Gibson has published hundreds of songs. He is married to the songstress Daisy Dern, who recorded an album for Mercury Nashville.
More about Dave Gibson and "King Me" is available at http://www.savannahmusicgroup.com/DaveGibson
Editor's Note: Dave Gibson is available for interviews or to perform his single for broadcast
# # #