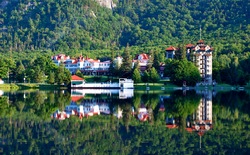 It's really a dream job for someone who can tell a story using their laptop, thumbs, camera or their phone.
Dixville Notch, NH (PRWEB) June 9, 2010
The search is on for the first-ever "Inn-Bedded Resorter," a social media guru who will spend his or her summer at the historic BALSAMS Grand Resort Hotel, Tweeting, posting, texting, blogging and YouTubing their heart out. The Resorter essentially has two jobs, to experience all of the fine dining and outdoor adventures the 8,000 acre resort has to offer (that's the easy part), and to share them with the world - as they happen - using social media.
It's a first of its kind social media campaign for a hotel that is known for its firsts. The BALSAMS is home to the first votes cast every four years in the first-in-the-nation Presidential Primary.
The Resorter's job is to spend every day using Twitter, Facebook, YouTube, Flickr and other social media platforms to share their experiences with the world as they golf on a Top 100 ranked golf course, play tennis, eat gourmet food, kayak, mountain bike, go whitewater rafting, eat more incredible food, go horseback riding and more.
"In years past, guests would come and spend the entire summer at grand hotels like The BALSAMS and send postcards to friends and family about all the fun they were having. This is a new media version of the postcard, but instead of the occasional card in the mail, our Resorter's followers will get a nearly minute-by-minute update about what it's like to eat dinner in our dining room, go golfing or hike to the top of Table Rock," said Jeff McIver, President and General Manager of The BALSAMS.
The BALSAMS is accepting applications online now at http://www.thebalsams.com/resorter through Friday, June 18 at midnight. Applicants must be available to start on Thursday, July 1 and stay through the end of August. The Resorter should be adept at using multiple social media platforms, have an outgoing personality, and be willing to spend an entire summer working hard while eating great food and having fun. (Application Guidelines)
The Inn-Bedded Resorter search was created, and is being managed by bobdonpaul.com, the marketing agency for The BALSAMS. Applicants enter all of their information into an online system that along with input from the BALSAMS and bobdonpaul.com teams, will help sort out the best-of-the-best. The Top 5 applicants will be posted on The BALSAMS website and they will then be encouraged to test their social media savvy as they campaign for the most votes. After the voting closes, the Top 3 candidates will be interviewed by members of the bobdonpaul.com and BALSAMS teams, and one lucky person will become the world's first Inn-Bedded Resorter.
"Oh, and we should mention that the Resorter will get paid $2,500 to spend their summer eating fine food and showing the world what it's like to spend their summer in grand style at The BALSAMS," added Bob Manley, Head Chef and Bottle Washer at bobdonpaul.com. (What the Resorter gets). "It's really a dream job for someone who can tell a story using their laptop, thumbs, camera or their phone."
Be the first Inn-Bedded Resorter, live the story, tell the story at The BALSAMS Grand Resort Hotel this summer!
About the BALSAMS
The BALSAMS is a premier New Hampshire resort hotel, featuring award-winning dining, outdoor wilderness adventures, unique events, endless activities, and fun for the entire family. Our 15,000-acre mountain resort features everything from golfing on a Top 100 ranked, Donald Ross designed course, a Top 20 ranked tennis program, hiking and biking, whitewater rafting, kids' summer camp, private alpine and cross-country skiing, snowshoeing, snowmobiling and more. For more information go to http://www.thebalsams.com or call 800-255-0600.
###