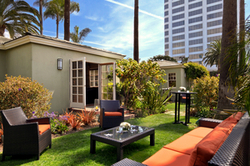 Santa Monica, CA (PRWEB) June 9, 2010
Just in time for summer vacation season, the Fairmont Miramar Hotel & Bungalows is offering a special "Staycation Retreat" package for those looking to forgo the stress of traveling in lieu of vacationing near home. The exclusive package provides guests with Signature Bungalow accommodations, complimentary overnight valet parking, a $100 spa credit at the in-house spa, exhale mind body spa, and breakfast for two at the award-winning FIG Restaurant. Rates for the "Staycation Retreat" begin at $599 a night, and the package will be available through September 2010.
Situated atop the scenic bluffs overlooking Santa Monica Beach and the Pacific Ocean, the Fairmont Miramar Hotel & Bungalows is the perfect place for locals and visitors alike to escape for a weekend of rest, relaxation and fun. Guests can unwind in the privacy of their own quintessential California bungalow by the beach, each featuring amenities such as a personal Bungalow Concierge and deluxe marble bathrooms with oversize soaking tubs. The hotel's exclusive Miramar Beach Club offers guests the option to enjoy a relaxing day at the beach without all the hassle. This seasonal service, available exclusively to hotel guests, features transportation to and from the beach, private beach butlers, bike and water board rentals, reserved chairs, towels and food services all upon request.
Guests can also rejuvenate at the hotel's in-house spa, exhale mind body spa, which boasts a colorful menu of spa therapies, services and fitness programs dedicated to merging the paths of mind and body, and improving overall well-being. Exhale offers a variety of services, including massages, facials, nails, and waxing, aimed at providing guests with the ultimate in pampering and relaxation. The spa's revolutionary Core Fusion classes offer a unique, total-body work out that will leave guests feeling invigorated and refreshed.
Ideal for those looking to experience deliciously fresh cuisine in a relaxed, open environment, guests may enjoy the modern take on traditional bistro fare at FIG Restaurant, located at the Fairmont Miramar Hotel & Bungalows. Chef Ray Garcia, who was recently recognized by StarChefs as a
Rising Star for his sustainability efforts, is passionate about using local ingredients and supporting local farmers. Chef Ray is known to scour the Santa Monica Farmers' Market in search of the freshest indigenous flavors to feature on his seasonal menu at FIG. He also employs an official food forager, Kerry Clasby, who travels California's Western Seaboard gathering the best produce directly from local farms.
For those seeking a more cultural experience, the hotel's proximity to downtown Santa Monica allows access to some of the city's best attractions such as the Getty Villa in Malibu or the Annenberg Beach House, a truly unique community destination for all. Guests can easily walk to shops at the Third Street Promenade, Montana Avenue and beginning this August, will enjoy the new Santa Monica Place, which is currently being redeveloped as an open-air shopping and dining environment that connects with the vibrant Third Street Promenade and Santa Monica's thriving downtown. Enjoy additional family fun and entertainment of Santa Monica Pier or check out the weekly Farmers Market at the Third Street Promenade.
ABOUT FAIRMONT HOTELS & RESORTS
With over 60 distinctive hotels, including the iconic Fairmont San Francisco and Fairmont Peace Hotel, Shanghai, and more in development, Fairmont Hotels & Resorts is a global hospitality brand known for its warm and engaging service and culturally rich experiences. Located in coveted worldwide destinations, its unrivalled collection of classic hotels imbue a sense of heritage, sophistication, and social importance, and are often considered destinations in and of themselves. Fairmont is also committed to responsible tourism and is an industry leader in sustainable hotel management with its award-winning Green Partnership program. Fairmont is owned by FRHI Holdings Limited, a leading global hotel company with 95 hotels under the Fairmont, Raffles, and Swissôtel brands. The company also manages Fairmont and Raffles branded residences, estates and luxury private residence club properties. For more information or reservations, please call 1-800-441-1414 or visit http://www.fairmont.com.
###