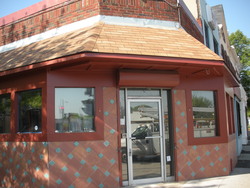 Washington DC (PRWEB) June 9, 2010
FutureGen Capital operates a private equity fund that is targeting multi-family properties, commercial bridge loans, tax lien investments and distressed debt assets within the United States. In this case, FGC made a loan to Carl Williams on a commercial property he had purchased.
The property is located in the "H-Street Corridor", an up and coming section in Washington DC. The local H-Street community where the property sits is being spurred by a new "trolley" line set to take tourists and locals through the community. The line is already being constructed and large retail outlets are setting up shop at a quick pace. The location of "Our Place on H" is predicted to increase in value even during these uncertain economic times, spurred on by the public private development now occurring.
The property consists of .3 acres of land. It is located on the southwest corner of H Street, NE and 6th Street, NE. The two story building is 2818 SF having 1690 SF above grade. The property is currently undergoing a total renovation and that renovation is nearly 85% complete. The loan proceeds to facilitate the completion of the project creating a new sports bar called "Our Place on H."
The proposed operation will be a sports bar that caters to both local DC residents and tourists alike. The proposed is located on the new "trolley line" which will bring tremendous foot traffic. Local DC sports celebrities have already been donating memorabilia and their time to host events at the new venue.
Carl Williams operates a successful security company. His firm ICS Protective Services often protects dignitaries visiting Washington, DC for international events, such as the Nuclear Summit recently held in the convention center district of NW Washington. His wife will take a prominent role in the management of "Our Place on H", as she has recently retired from the Washington DC Metro Police Department as a Homicide Detective .
# # #