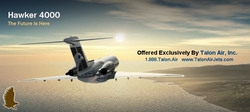 Farmingdale, NY (PRWEB) June 8, 2010
Talon Air, Inc., a global leader in private jet charter and aircraft management, announced today that it has purchased a new Hawker 4000 super-mid size business jet from Hawker Beechcraft Corporation. The addition of this brand new Hawker 4000 private jet aircraft is part of the company's continued expansion to serve its charter clients. With six Hawker 4000s based at Talon Air's new 100,000-square-foot private aircraft facility located at New York's Republic Airport (FRG), Talon remains the fleet leader and has the largest fleet of Hawker 4000 business jets in the world. The new aircraft will help Talon meet the overwhelming customer demand for this aircraft and offer a depth of products that are the most requested in the industry.
This private jet is the most advanced and luxurious super-midsize business jet in the world. With its unique composite fuselage the aircraft boasts a six-foot high stand-up cabin from front to back offering the largest cabin in its class. The Hawker 4000 serves as the indispensable business tool, getting charter clients where they need to be with convenience, luxury and peace of mind. Hawker Beechcraft has designed a quiet, comfortable environment ideally suited for working or relaxing.
"In almost every airplane, something has been sacrificed," said Adam Katz President and CEO. "There's no compromise in this airplane. It's very fast, comfortable and efficient."
With a 99% dispatch reliability, this private jet stands above the rest of the super mid size business jets such as the Gulfstream 200 and Challenger 300. Its performance has allowed Talon Air to operate from airports that typically can not accommodate aircraft of this size. The Hawker 4000 has opened airports with short runways to Talon's clients such as Ocean Reef, Florida (4500 feet), Hilton Head, South Carolina (4300 feet) and East Hampton, New York (4255 feet).
To view a virtual tour and video of this new aircraft, visit http://www.TalonAirJets.com or call (631) 753-8881 to request additional information.
About Talon Air, Inc.
Founded in 2001, Talon Air is a boutique luxury private jet and aircraft management company based at Republic Airport (KFRG) in Farmingdale, New York in a brand new state of the art 100,000 square foot hangar and office complex. The original facility has been converted to New York's premier FAA PART 145 licensed repair station. With the addition of new private jets to its fleet, Talon continues to be an innovator in the industry delivering an unparalleled level of consistency and customer service. The vertically integrated fleet includes the Sikorsky 76B helicopter, King Air B200, Hawker 400XP, Hawker 800XP, Hawker 900XP, Hawker 4000, Challenger 300, Legacy 600, Challenger 604 and Gulfstream IVSP. All of our ATP, FlightSafety and CAE SimuFlite trained pilots and licensed A&P mechanics are Talon employees and maintain the highest safety ratings available. Talon Air is a Wyvern Gold, ARG/US Platinum and an IS-BAO registered operator.
For more information, visit http://www.talonairjets.com
###