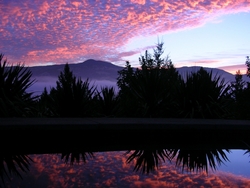 Bring your dream business challenge to the retreat and I guarantee that you will know exactly what to do next when you get home
North Royalton, OH (PRWEB) June 9, 2010
Eighteen amazing women will spend a weekend in the glorious California wine country, among the magnificent redwood trees from November 17-21, 2010. They will laugh, cry, work and play together. They will be inspired and charged to bring their dreams out of their heads and into reality. When they leave, they will have the body of skills needed to bring their dream businesses to life. Patty Sadallah is the Dream Partner Catalyst and President & Founder of the Redwood Sisterhood, an international organization that supports solopreneurs and small business owners in the marketing and growing of their businesses. Leadership Anatomy is Patty Sadallah's model of using the body as a powerful metaphor for dream fulfillment.
Patty Sadallah and Sarah Spengler, of Grace Partners, will combine forces to facilitate this uniquely powerful 5 day intervention for business dreamers. "Both Sarah and I have 20 plus years of experience as organization development consultants and coaches. I bring the model and the marketing sense to the table, and Sarah brings her expertise in accelerated learning. Together, we will deliver a dynamite and efficient process that will allow participants to make more planning progress in a long weekend than they could make in a year" explains Sadallah.
"The learning curves are so steep for new business start ups, and yet, women owned businesses are growing at rate double that of the national average. This retreat is ideal for the woman who has a dream business in mind and just doesn't know what to do to get it going." Sadallah says. Retreat participants will leave with more clarity; direction and an action plan to kick start their dream businesses.
Each woman will bring her own dream business challenge to the retreat and through carefully designed exercises, she'll leave with much more clarity of purpose, market niche, branding, planning and time management skills. Through the lenses of the body parts, the women will be working on:
Heart: Connecting with your passion, mission and purpose…how your God given gifts can be used to help people in your unique way.
Eyes: Can you see your ideal future? What does it really look like to have your dream business? What impact is awaiting your customers? How are you making a difference?
Brain: How can you adopt a CEO mindset? What would it take to imagine yourself adding a zero to your present income? "Every new level of income demands a different you."- Mike Litman. Challenge yourself to tap into that new level of you!
Face: "Today you are You, that is truer than true. There is no one alive who is Youer than You." Dr. Seuss. We'll work to clarify YOUR unique brand.
Hands: Your hands represent your service. What should be your ideal service or product offerings? How can you parlay them into integrated multiple streams of income?
Mouth: Find your voice through effective copy writing and messaging. Learn about the secrets of effective communication and work through strategies for helping your ideal customers find you.
Ears: It's 3 times more costly to get new customers than to keep old ones, and 68% change brands because of a lack of appreciation. We'll work on strategies and techniques to insure that you know how to listen to your customers.
Legs: If you aren't sure how to work your business into your life, you appreciate learning the success activities and time management strategies to get it all done and still have time to enjoy yourself.
Stomach: Taking the leap of faith to have your dream business takes courage. We will work on tapping the guts you need to be successful. Find the power that will help you succeed no matter what the obstacles.
There will be plenty of time for reflection, fun and relaxation built into the retreat experience. The Alexander Valley Lodge in Geyserville, CA , nestled on a hilltop in the Sonoma wine valley will be the Bed and Breakfast host of the event. "It would be irresponsible of us not to visit the local vineyards, partake in the fruits of their labor and enjoy the magnificent redwood trees while we are there. " Spengler says. The Redwood Sisterhood was named for the majestic redwoods. They are the tallest, oldest and strongest trees on the planet. But, they are shallow rooted and get their strength from intertwining their roots and are virtually indestructible. The Redwood Sisterhood offers that kind of wrap-around support for solopreneurs and small business owners.
"Bring your dream business challenge to the retreat and I guarantee that you will know exactly what to do when you get home." Sadallah promises. For more information about the Leadership Anatomy Woman's Retreat: The Body of Skills you need to Bring your Dream to Life that will be held November, 17-21, 2010 please click here:http://bit.ly/IY8Cp
# # #