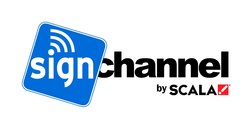 Now our resellers have a means to get in the door of small businesses that wouldn't consider digital signage because of the upfront investment and complex technology involved.
Exton, PA (PRWEB) June 9, 2010
A recent article from DigitalSignage.com predicted, "Because digital signage software and hardware prices continue to fall, small customers are going to finally have their day in the sun." Scala's recent acquisition of Thinking Screen Media's SignChannel makes that prediction a reality. Now AV professionals have an entry-level digital signage offering — the SignChannel subscription-based, online service — that is priced right for small- to mid-sized businesses and franchise owners.
Scala will be demonstrating SignChannel at InfoComm 2010 (June 9-11) at the Las Vegas Convention Center, Booth #N2151. Scala will also hold a press conference about SignChannel at its booth at 11:30 a.m., June 10.
The SignChannel service provides an easy way for small businesses to get the competitive advantages offered by digital signage. They can begin with just one screen and a device as simple as a wireless photo frame. The service also supports low-cost media players, which can be connected to the user's screen of choice.
With SignChannel, there is no software to install, and users can manage their own content, playlists and schedules online. Users log in to the SignChannel Web site to access hundreds of content channels and an extensive library of templates and scheduling options.
Scala Certified Partners can resell a discounted, prepaid annual subscription at an attractive price point. This entry-level option provides future up-sell opportunities for when the customer would like to do more. The service is expected to be available by the end of Q2.
"Now our resellers have a means to get in the door of small businesses that wouldn't consider digital signage because of the upfront investment and complex technology involved," said Robert Koolen, President, Scala. "With SignChannel, small businesses can begin working with digital signage immediately. As these companies grow and develop a need for larger networks, Scala can advise them on how to integrate more sophisticated software to meet their digital signage requirements."
The SignChannel offering is Scala's value choice for lobby welcome signs, digital menu boards, showrooms, doctor and dentist offices, real estate offices, local restaurants, independently owned hotels and many other small business venues.
To learn more about SignChannel, visit http://www.signchannel.com.
About Scala
Driving more than 500,000 screens worldwide, Scala is a leading global provider of digital signage and advertising management solutions. Scala is the world's first connected signage company, offering the leading platform for content creation, management and distribution in digital signage networks and the first unified platform for advertising management of both traditional and digital signage networks. The company's digital signage customers include Rabobank, IKEA, Burger King, T-Mobile, Virgin MegaStore, Warner Brothers, The Life Channel, Rikstoto, Repsol, NorgesGruppen, Audi, ECE Flatmedia, Kaufhof (Metro Group) and thousands more. Advertising management customers include CBS Outdoor, Clear Channel Outdoor and Magic Media, among others. Scala is headquartered near Philadelphia, USA, and has subsidiaries in Canada, The Netherlands, France, Norway, Germany and Japan, as well as more than 450 partners in more than 60 countries. More information is available at http://www.scala.com.
©2010 Scala, Inc. 350 Eagleview Blvd. Exton, PA 19341. Scala and the Exclamation Point Logo are registered trademarks of Scala.
###