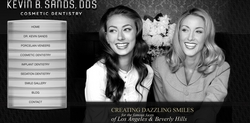 Beverly Hills, CA (Vocus) June 8, 2010
As our culture becomes more cautious about protecting our environment and making the earth a little 'greener,' one cosmetic dentist who offers procedures such as teeth whitening and dental implants in Beverly Hills is doing his part by dramatically cutting down on what many of us may take for granted: paper. Dr. Kevin Sands says going chartless at his practice is not only a way to make office visits quicker and more convenient for his patients, it also serves to help the environment and maybe save a few trees in the process.
By going chartless, Dr. Sands says he can rely on safely encrypted information on computers to store all of a patient's data relevant to their care. This can include X-rays, referral information, medical alerts, lab information, before-and-after images of treatment, and much more. Plus, Dr. Sands says having a chartless office can make submitting dental insurance claims a lot easier and significantly less time-consuming. This new way of storing patient data also can also cut down on the risk of misplacing or misfiling important information, and makes transferring a patient's necessary medical data to a referred dental specialist lightning-quick. Dr. Sands says electronic transfer of patient data can save time and money for the patient because they won't have to take the materials with them and the referred specialist will likely not need to repeat the same tests.
With a chartless office, Dr. Sands says the entire process of dental treatment such as porcelain dental veneers in Beverly Hills can be a little quicker and more hassle-free for patients. Plus, he says it serves as a sort of 'greening' of his office – and a small way of helping the world around us.
About Kevin B. Sands, DDS
Dr. Kevin Sands offers comprehensive dental treatment and smile design in Beverly Hills. He is a member of the American Dental Association, the Academy of Cosmetic Dentistry, the California State Dental Association, and the Beverly Hills Chamber of Commerce. Dr. Sands is a graduate of the Las Vegas Institute for Advanced Dental Studies, as well as the USC School of Dentistry. He has lent his skills and expertise to a number of stories featured on television programs including Style Network's 2nd Look; E!'s Doctor 90210; and TLC's 10 Years Younger.
Dr. Kevin Sands can be reached at 414 North Camden Drive, Suite 940, Beverly Hills, CA 90210 – (310) 707-1288. http://www.beverlyhillscosmeticdentist.com.
###