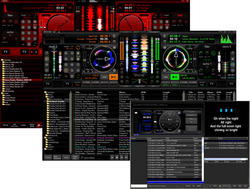 We pride ourselves on keeping our ear to the ground
Clearwater, FL (PRWEB) June 8, 2010
June 8, 2010 -- "We pride ourselves on keeping our ear to the ground," says Ryan Sherr, Digital 1 DJ's General Manager. "We take all feedback in stride, and many of the new features, enhancements, and performance upgrades are a direct reflection of user input. For example, we just introduced a beat grid and snap-to-beat BPM matching in RED Mobile and DEX in the new updates, which was one of the most requested features on our message forum wish list. We have also written native support for many of the new DJ controllers on the market, giving our users more tools to pick from. We use our community for direction in many cases, because after all, they're the performers using the product in the field on a daily basis - they know exactly what they want and need out of their software. So generally if it works for them and makes sense conceptually, it makes sense for PCDJ"
A few of the new features included in the PCDJ RED Mobile and PCDJ DEX update are as follows: New and much improved Master Tempo algorithm, the snap-to-beat bpm matching (to perform with a mouse, right click on the Sync button when playing two tracks), MP4 Lossless file support, support for Promo Only (http://www.promoonly.com) DFF files, new faster library and search, DJ controller support upgrades, and much more.
PCDJ's updated list of natively supported DJ Controllers:
Allen & Heath Xone:2D
American Audio DP2
Behringer BCD-2000 and Behringer BCD-3000
Denon DN-HC4500,Denon DN-S1200 and Denon DN-HS5500
DJ-Tech i-Mix, i-Mix Reload and Kontrol One
EKS XP10 and EKS XP5
EKS Otus
Hercules DJ Console Mk2 and MP3
Hercules DJ Console Mk4
Hercules DJ Control MP3 e2
Numark Total Control
PCDJ DAC-3
PCDJ DAC-2
Reloop Digital Jockey 2
Stanton SCS.3d DaScratch
Vestax VCI-100 and Vestax VCM-100
PCDJ KARAOKI now boasts the following new additions: Faster and more robust library and search (20X faster), karaoke video playback support, karaoke auto-play, more naming conventions supported, upgraded sound engine, player session history, and much more.
For additional information or a sample copy, Contact:
Digital 1 DJ
1176 NE Cleveland St.
Clearwater, FL 33755
727-799-3828 ext 105
Supported operating systems are Windows XP/Vista/Windows 7 (32 and 64bit). For current PCDJ users, all upgrades are free of charge. PCDJ DEX manufacturer's suggested retail price is $199, PCDJ RED Mobile is $99, and PCDJ KARAOKI is $99.
To download a PCDJ demo and get additional information visit: http://www.pcdj.com
Company Info: Since 1999, Digital 1 DJ/PCDJ has been recognized as the world's leading developer and manufacturer of DJ performance software and hardware. More than 100,000 professional DJ's around the world now spin with their computer using one of the company's digital audio file mixers. Digital 1 DJ, is a wholly owned subsidiary of Digital 1 Media, Inc.
###