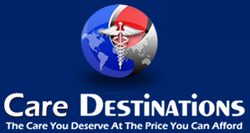 While some agencies list virtually every international facility available, Care Destinations has intentionally limited its network partners and destinations.
Wilmington, DE (PRWEB) June 9, 2010
Absent from the recent US health care reform debates are the international solutions being provided by a few domestic companies.
While many international facilities claim to have equal or superior medical care standards to those in the US and Europe, few companies are performing the due diligence critical to ensuring superior medical standards with their network facilities.
Care Destinations has created a unique process, including verification of Joint Commission International accreditation standards, spoken English requirements for network physicians and health care personnel, and superior quality of care ratios. In addition, members of the Care Destinations staff have personally undergone minor medical procedures at every network facility.
"What separates Care Destinations from other medical tourism agencies is that we are not former travel agents seeking a new industry, nor are we funded by certain international medical facilities" advises company President Philip Graner. "As a direct consequence, Care Destinations is able to provide the complete range of services required for our patients to undergo a successful overseas surgery, and we have the processes in place to ensure timely and competent responses to any complications, both medical or travel related."
Mr. Graner continues "while some agencies list virtually every international facility available, Care Destinations has intentionally limited its network partners and destinations. I feel far more confident providing solutions in case of complications working with a few trusted and experienced partners who understand our patients' needs, rather than a large network who we may only deal with a few times per year."
The cost savings can be substantial. Care Destinations' staff research shows that the average US cost for a total knee replacement is $43,000 (includes all hospital, physician and facility fees, and does not account for any insurance payments), while the same operation can be had at an internationally accredited facility in Panama for $7,800. Similar cost savings exist for cosmetic, dental, weight loss, cardiac and fertilization procedures
Care Destinations also has both the experience and staff on the ground at each destination to ensure a safe procedure and post-surgery recuperation.
The Care Destinations Executive Board is comprised of

a licensed US surgeon
a registered nurse
a retired US diplomat specializing in international trade
an international marketing expert
In addition, Care Destinations maintains advisory relationships with medical specialists covering many medical procedures. With over 100 years of combined international medical services experience, Care Destinations is uniquely qualified to provide patients with superior service from initial contact through the return journey and surgery follow-up.
For more information, please call Care Destinations at 1-888-300-3222 ext. 102 or visit Care Destinations online at http://www.caredestinations.com.
Contact Email: pgraner(at)caredestinations(dot)com
Issued By: Care Destinations, LLC
Phone: 1 888 300 3222 ext. 102
###