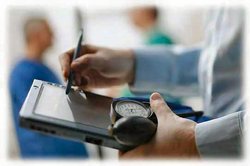 Defining how each Physician practices medicine and being able to customize the software to meet their unique individual needs makes our EMR solution very user centric - Thomas Clark, President/CEO
Mount Washington, KY (PRWEB) June 14, 2010
Sunrise Services Llc, a national value added reseller of McKesson's, Medisoft Clinical (EMR) and Total Practice Partner software was awarded the Gold for Electronic Health Record sales for the first quarter of 2010.
When Kelly Meeks, Vice President of the Sunrise team was asked about the award, she responded by saying, "There is a definite upturn in medical practices deciding to implement EHR(Electronic Health Records) earlier rather than later in order to qualify for the Government Stimulus for healthcare. Sunrise Services offers a great mix of McKesson products. Offering our Physicians an established EHR like Medisoft Clinical and Total Practice Partner along with the added incentive of the OffEHR rebate program really helped to drive those first quarter sales."
Tom Clark, President/CEO of Sunrise Services said, "Winning the Gold was a great confidence builder for our team of EHR implementation experts and showed them that all of the time, effort and training they had put into learning Medisoft Clinical and Total Practice Partner really paid off with a record 1st quarter of Medisoft Clinical sales. Everyone at Sunrise Services is thrilled, elated and motivated by winning this honor from McKesson."
Sunrise Services
142 Village Lane Ste C
Mt Washington, KY 40047
Phone: 502-538-4665
Fax: 502-538-6853
Toll Free: 888-880-0384
http://www.sunrize.com
###