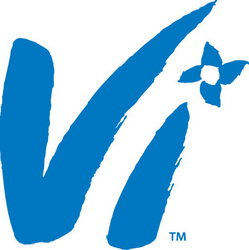 "Our new identity reflects what our communities are all about—health, happiness and vitality," commented Randal J. Richardson, President of Vi.
Chicago (PRWEB) June 8, 2010
Classic Residence by Hyatt, a leading national developer, owner and manager of quality senior living communities, today unveiled its new company brand name, Vi (pronounced VEE). The company's portfolio includes rental communities and continuing care retirement communities (CCRCs). The CCRCs will be branded as Vi, while rental communities will change their names to Classic Residence, a Vi Community. The name change will take place throughout the summer. Leadership, management and day-to-day operations of the company and all of the communities remain unchanged.
According to the company, the name Vi was selected because it represents life and the opportunity for a better quality of life in the communities the company operates. Furthermore, Vi personifies what living life as an older adult can be all about - more vibrant, more engaged and more enriched. The name, Vi, is derived from vida, the Latin word for life.
"Our new identity reflects what our communities are all about -- health, happiness and vitality," commented Randal J. Richardson, President of Vi. "In addition, the name Vi captures the environment and experience we offer residents, and signifies our continued dedication to providing communities and services that enhance the quality of our residents' lives."
The expectations of today's older adults were underscored in a new study of Americans aged 65 and over commissioned by Vi. According to the Vi Next Chapter study, more than four out of five seniors (82%) feel they have "so much to look forward to" in the next chapter of life, and 83% say they "feel younger than they are."
With more than 70 million baby boomers starting to turn 65 this year, it is estimated that boomers will have 30+ years of retirement. The Vi Next Chapter study found that 81% of Americans over 65 have a different vision of their retirement from that of their parents. Almost nine out of 10 (86%) say they want their retirement to be more exciting and more active than their parents' retirement, while almost all (98%) say retirement "can and should be a fun experience." Conversely, a scant 6% look to their parents' retirement as a guide for their own future.
"This study supports the fact that older adults view our communities as a place to grow and thrive, and is a primary reason we want to change the perception of older adult living through our new brand," said Richardson. "Given both the life expectancy and high lifestyle expectations of today's older adults, we have identified four Vital Elements that signify everything our new brand stands for and delivers," added Richardson. "These Vital Elements – Home, Wellness, Connection and Vitality – are the foundation of Vi."
In addition to a new visual identity, Vi will introduce a new Web site, http://www.ViLiving.com, in July. A comprehensive marketing campaign to support the new brand will begin this fall.
About Vi
Vi, formerly Classic Residence by Hyatt, was founded in 1987 as a developer, owner and operator of older adult living communities. The company is dedicated to enriching the lives of older adults by providing high quality environments, services and care. Vi currently operates nine continuing care communities (CCRCs) with one other under development and 10 rental communities under a family of brands in the following locations:
Continuing Care Communities:
Vi at Aventura; Aventura, Fla.
Vi at Bentley Village; Naples, Fla.
Vi at The Glen; Glenview, Ill.
Vi at Grayhawk; Scottsdale, Ariz.
Vi at Highlands Ranch; Denver, Colo.
Vi at La Jolla Village; San Diego, Calif.
Vi at Lakeside Village; Lantana, Fla.
Vi at Palo Alto; Palo Alto, Calif.
TidePointe, A Vi Community; Hilton Head Island, S.C.
Classic Residence at Silverstone • Scottsdale, Ariz. (under development)
Rental Communities:
Classic Residence, a Vi Community
Boca Raton, Fla.
Chevy Chase, Md.
Dallas, Texas
Hollywood, Fla.
Plantation, Fla.
Pompano Beach, Fla.
Reno, Nev.
Teaneck, N.J.
Yonkers, N.Y.
Classic Residence by Hyatt
Monterey, Calif.
The company's communities have earned honors for being among the nation's finest, including Platinum, Gold, and Silver Achievement Awards from the National Association of Home Builders 50+ Housing Council.
More information is available at the company's web site http://www.ViLiving.com.
# # #