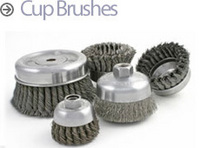 Los Angeles, CA (PRWEB) June 8, 2010
Brush Research Manufacturing, an ISO 9001:2008 certified full line manufacturer of industrial brushes including wheel, end, cup, encapsulated, copper center, mandrel mounted styles, has added information on its web site to help manufacturers select the appropriate style, size, and filament material for the application.
Industrial brushes are an excellent solution for heavy-duty cleaning, surface finishing, deburring, surface prep, paint or weld removal, rust and corrosion removal, slug and scale removal, wire stripping, etc. As a rule of thumb, a wire brush will perform its best when it is exactly the right size and the right type for the job and operated at the highest safe speed with the lowest possible pressure.
For this reason, Brush Research Manufacturing has posted a blog article on tips and tricks to assist in selecting appropriate industrial brushes. To view the blog article, go to: http://www.flexhoneblog.com/2010/05/best-practices-for-industrial-brushes.html
Brush Manufacturing also produces twisted-in-wire brushes for thread cleaning, cross hole deburring, tube, and flue applications, as well as custom and miniature brushes. Wire brushes and power brushes can be utilized in hand operations and with automated and CNC equipment.
Brush Research Manufacturing has been in the business of solving difficult finishing problems with industrial brushes since 1958.
###