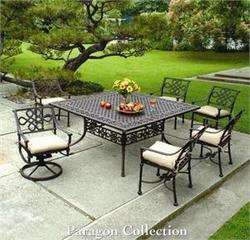 Great savings on outdoor furniture during our 4th of July sale!
Chicago, IL (PRWEB) June 25, 2010
To celebrate the Fourth of July holiday, My New Furniture Store is offering a 10 day sale on all outdoor furniture. The sale will be available from June 25 - July 4, 2010. This sale provides customers a great opportunity to purchase outdoor furniture at discounted prices.
Customers can save 10% off any outdoor furniture order by entering in the coupon code 'july4' during checkout. The shopping cart will show the deduction before any billing information is requested. Only products that are listed in the outdoor furniture category will be eligible for the discount.
Outdoor furniture has been the most popular category for My New Furniture Store during the spring of 2010. Two of the most popular collections during this spring have been the Polywood and cast aluminum categories. Both of these collections allow the customer to choose their choice of Sunbrella fabric for the cushions. Sunbrella fabric is engineered for outdoor use and is easy to clean and maintain, resistant to stains, mildew, and fading.
Cast Aluminum Furniture is one of the best materials for outdoor furniture. Furniture constructed of cast aluminum is popular because of its sturdy and durable construction and its ability to portray fine details. My New Furniture Store just updated their selection of cast aluminum furniture and added a variety of patio tables, chairs, swivel rockers, sofas, loveseats, chaise loungers, and more.
Polywood Furniture is constructed from plastic lumber made from recycled milk jugs. Polywood furniture has been proven to be unaffected by the sun, rain, snow, sleet, wind, saltwater, chlorine, and mildew. The furniture is assembled using stainless steel hardware that features an additional protective Xylan coating to protect from rust and wear. Polywood furniture is also nonporous, so the furniture can be left outside year round, no matter the climate. All of these features make Polywood furniture a great investment for outdoor furniture, that will last season after season.
My New Furniture Store has a great collection of outdoor furniture and is excited to offer this Fourth of July sale. Over 200 new outdoor products have been added to the store in recent updates and the store feels this sale is a great opportunity to showcase its outdoor furniture. According to the store, they want to become the ultimate resource for creating an outdoor living space.
My New Furniture Store is a online furniture store featuring fine furniture and accessories. The store offers quality furniture at affordable prices in a safe and secure shopping environment. With over 3000 products the store has furniture for every room in your house, from home theater seating to electric fireplaces. My New Furniture Store also offer instant coupons, which allow for instant savings on every purchase during checkout.
###