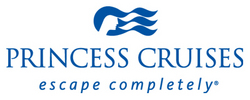 Santa Clarita, Calif. (Vocus) June 8, 2010
True to its destination cruising heritage, Princess Cruises has just released its 2011-2012 schedule for worldwide voyages featuring intriguing itineraries to Africa, Asia, Australia, New Zealand, Hawaii, Tahiti, India, and South America.
The "Exotics" program will give passengers the opportunity to explore these fascinating destinations aboard intimate small ships or spectacular larger vessels.
Among the program highlights is a new roundtrip 28-day Hawaii, Tahiti & Samoa itinerary from Los Angeles aboard Sapphire Princess, giving passengers an extended South Pacific experience. In South America, the line will expand capacity on sailings around Cape Horn by 50 percent, enabling more travelers the opportunity to make this fabled passage.
The Exotics season runs from September 2011 to May 2012 and includes:
Asia, Africa & India – A passenger favorite, the 16-day Southeast Asia itinerary between Beijing and Singapore returns in the fall and spring aboard Diamond Princess. Travelers can also choose to sail between Asia and Alaska or Australia, for two-continent adventures. Passengers can explore further with a collection of connoisseur voyages aboard Ocean Princess, visiting unique locations in Asia, the Indian Ocean and West Africa.
Australia & New Zealand – Princess offers a wide range of options for exploring "down under" with a season of Australia & New Zealand sailings aboard Diamond Princess, connoisseur cruises on Ocean Princess, and "Aussie-style" cruising aboard Sun Princess, Dawn Princess and Sea Princess to Australia, New Zealand and the South Pacific from Sydney, Melbourne and now Brisbane.
South America – Princess offers even more opportunities in 2012 for a sailing rite of passage – rounding Cape Horn, the southernmost tip of South America. Star Princess departs on more cruises for a 50 percent increase in capacity on this celebrated route. The ship also sails on a Brazilian Adventure from Rio, and Pacific Princess takes passengers exploring down the mighty Amazon River.
Hawaii & Tahiti – A new 28-day roundtrip Hawaii, Tahiti & Samoa cruise debuts on Sapphire Princess, offering a new option from Los Angeles. Sapphire Princess joins Golden Princess sailing to the Hawaiian Islands on the line's popular 14-day roundtrip Los Angeles itinerary. Ocean Princess also sails on a series of 10-day Tahiti & Polynesia and 11-day Hawaii & Tahiti voyages.
Princess' Exotics program cruises open for sale on June 17, 2010.
Additional information about Princess Cruises is available through a professional travel agent, by calling 1-800-PRINCESS, or by visiting the company's website at http://www.princess.com.
About Princess Cruises:
One of the best-known names in cruising, Princess Cruises is a global cruise and tour company operating a fleet of 17 modern ships renowned for their innovative design and wide array of choices in dining, entertainment and amenities, all provided in an environment of exceptional customer service. A recognized leader in worldwide cruising, Princess offers its passengers the opportunity to escape to the top destinations around the globe, with sailings to all seven continents, ranging in length from seven to 107 days. The company is part of Carnival Corporation & plc (NYSE/LSE:CCL; NYSE:CUK).
Princess Cruises is a proud member of World's Leading Cruise Lines. Our exclusive alliance also includes Carnival Cruise Lines, Holland America, Cunard Line, Costa Cruises and The Yachts of Seabourn. Sharing a passion to please each guest and a commitment to quality and value, World's Leading Cruise Lines inspires people to discover their best vacation experience. Together, we offer a variety of exciting and enriching cruise vacations to the world's most desirable destinations. Visit us at http://www.worldsleadingcruiselines.com.
Princess can also be found on:
Facebook: http://www.facebook.com/PrincessCruises
Twitter: http://twitter.com/PrincessCruises
YouTube: http://youtube.com/princesscruises
Flickr: http://www.flickr.com/photos/princesscruises
For further information contact:
Karen Candy, kcandy(at)princesscruises(dot)com, 661-753-1540
Julie Benson, jbenson(at)princesscruises(dot)com, 661-753-1530
News, background information and photography are always available in our newsroom at http://www.princess.com/news.
###