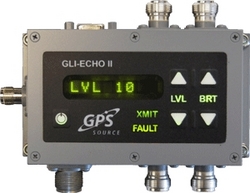 Pueblo, Colorado (PRWEB) June 9, 2010
GPS Source announced today the coming addition to the GPS Source product line, GLI Echo II. A primary LRU for GPS retransmission, it will provide a wireless or wired GPS signal live inside any military vehicle or aircraft.
The GLI Echo-II is based on state of the art technology developed for permanent install GPS retransmission in the Boeing C-17. Outperforming larger GPS retransmission systems costing several thousand dollars more, it is compact and easy to operate. Featuring precisely controlled and user adjustable output signal strength, it also has automatic oscillation detection, BIT and fault isolation, and is NVG compatible.
Robert Horton, CEO of GPS Source, said "We are very excited about the new GLI Echo-II. It has been designed to make life easier and safer for the Warfighter. It increases the Warfighter's Situational Awareness by allowing them to always have a GPS signal available inside their ground vehicle or aircraft. The GLI Echo-II, with one input and four outputs, makes GPS available to many systems the Warfighter uses inside a ground vehicle or aircraft. This includes, but is not limited to the following: Ground Soldier System (GSS), DAGR, MRT/FBCB2, Tacticomp™, and Toughbook™. Having four outputs is important, as it can significantly reduce the amount of wires and cables that are currently found inside a military vehicle or aircraft."
The GLI Echo-II is available as a roll on/roll off or permanent install system. It is designed to ensure 100% GPS L1/L2 signal coverage throughout a ground vehicle, plus the cargo compartment and flight deck of any small to large military fixed wing or rotary wing transport aircraft. Examples of ground vehicles would include: HMMWV, MRAP, Stryker, and similar infantry fighting vehicles. Examples of aircraft would include: CH-46, CH47, CH53, V-22, C-23, C-27J, C-130 (all variants), A400M, and the C-17. GPS retransmission technology developed by GPS Source, Inc. is currently utilized by Land Warrior units aboard the Stryker, RG-33, M1151, and has received air worthiness certification aboard the C-17. The GLI Echo II will be available for delivery January 2011.
Founded in 2000, GPS Source, Inc. designs, develops and manufactures solutions that bring GPS inside for the military, defense, aerospace, and other markets. This includes a complete line of mil-spec GPS antennas, splitters, repeaters, cables, etc. The "GPS Live Inside" products ensure GPS signal availability inside. GPS Source, Inc. is a veteran owned small business and an AS9100 certified company. For more information, visit http://www.GPSSource.com.
# # #