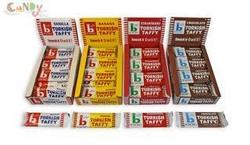 We are already pre-booking orders at Candy.com. The response to Bonomo on our site has been phenomenal—and so far it's just been word of mouth
Weymouth, MA (Vocus) June 8, 2010
Bonomo Turkish Taffy is back and it will be available exclusively at Candy.com from June 21 to July 1, 2010, as part of a soft launch campaign for the manufacturer, Classic Caramel, LLC.
Candy.com's release will include Bonomo's 1.5-ounce bars, which will ship in 24-count boxes. The bars will be available in Bonomo's four original flavors: Banana, Vanilla, Strawberry, and Chocolate. Each box will retail on the site for $21.99.
"We are already pre-booking orders at Candy.com. The response to Bonomo on our site has been phenomenal—and so far it's just been word of mouth," says Greg Balestrieri, CEO, Candy.com.
The original formulation, manufacturing process, and original flavors have been resurrected by Classic Caramel, LLC, a wholly owned subsidiary of The Warrell Corporation, based in Camp Hill, PA. Bonomo has not been commercially manufactured or sold since the mid-1980s.
The company's tagline, "Smack it Crack It!", was realized by consumers as they smacked the taffy against a hard surface and ate the pieces off the wrapper.
"In taste testing, the comments from those that remember the bar have been very complimentary, 'just like they remembered it' is the frequent comment" says Ken Wiesen, president and co-CEO of Bonomo. "Bonomo is more than candy. It's a representation of a time when times were simpler and more wholesome."
Bonomo will also be available in its original bar format, as well as bite-size individually wrapped pieces. The bite-size pieces will be available in an assorted change maker tub as well as straight flavor bulk candy. Product will be available for shipment July 2010.
About Candy.com Candy.com is the ultimate online candy store offering more than 6,000 candy products from 500-plus manufacturers to B-to-C and B-to-B customers. Candy.com was co-founded and launched in July 2009 by cousins Greg Balestrieri and Joe Melville. Greg and Joe represent the third generation of the family-owned Melville Candy Company of Weymouth, MA.
For more information, visit http://www.Candy.com.
About Classic Caramel, LLC
Classic Caramel is a caramel, taffy, chew, and nougat manufacturer with its plant located in York, PA. The company markets nostalgic branded merchandise, such as Bonomo Turkish Taffy®, Slo Poke®, BB Bats®, Kits®, & Flipsticks™ to the retail trade. In addition, the company has an extensive base of ingredient, private label, bulk, and contract manufacturing customers. Classic Caramel is a wholly owned subsidiary of The Warrell Corporation, based in Camp Hill, PA. For more information, visit http://www.WarrellCorp.com.
###