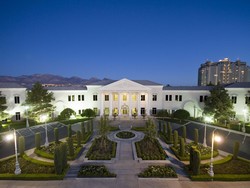 Without any doubt, there is a role for symptom improvement with hormones when a deficiency has been proven.
Las Vegas, NV (PRWEB) June 8, 2010
Cenegenics® Medical Institute, the global leader in age management medicine, collaborated with Dr. Ernst R. von Schwarz—Medical Director of the Multidisciplinary Heart Failure Research at Cedars Sinai Medical Center—to explore new therapeutic strategies that will slow the progression of heart disease. Their newly published scientific paper/expert review presents promise for using a clinical hormone strategy to improve heart failure symptoms: "Growth Hormone and Testosterone in Heart Failure Therapy" appearing in Expert Opinion on Pharmacotherapy, an international, MEDLINE-indexed, peer-reviewed journal.
The expert review focuses on the positive association between testosterone deficiency/growth hormone resistance and a poor state of heart failure—a progressive disease affecting millions worldwide. Despite multiple pharmaceutical options to decrease heart disease's high mortality risk, several patients still must await the only definitive cure for heart failure: a heart transplant. Discovering viable options that improve heart failure outcomes and prevent the need for transplantation is critical.
"Without any doubt, there is a role for symptom improvement with hormones when a deficiency has been proven. Oftentimes, hormones are not tested and, consequently, not treated. There is a need for more information and more controlled, systematic studies on that topic. What is available is promising, but only in a select group of patients," Schwarz said.
Schwarz says he frequently uses hormone therapy in a highly select group of patients with good success.
In their collaborative expert review, the authors discuss the physiology of both natural hormones (testosterone and growth hormone) as well as their therapeutic effects in heart failure and data from related published literature. For the paper, they conducted an extensive search of PubMed for topics on heart failure, growth hormone, insulin-like growth factor, testosterone, their physiology/pathophysiology and trials where used as therapeutic interventions between 1989 and 2009.
Recognized leading authority in age management medicine, Cenegenics sees the scientific paper/expert review collaboration with Schwarz an important step forward, furthering the age-management leader's mission of merging traditional medical approach with proactive intervention for optimized health. Future papers focusing on hormone balancing, health, aging and disease are planned.
"It's a new chapter for Cenegenics aligning ourselves with medical centers where clinicians are embracing the concept of age management medicine—not just for the population sector we see who are healthy, but also expanding our horizons to assist clinicians who deal with chronic illnesses," said Robert D. Willix Jr., MD, co-author on the paper. Willix is the CMO of Cenegenics Las Vegas and CEO/CMO of Cenegenics Boca Raton.
For more information about Cenegenics, please visit http://www.cenegenics.com. Register for quick access to the informative Guide to Healthy Aging, Executive Summary and media excerpts. To schedule an interview, please contact Ann Castro, Cenegenics Director of Media Relations: 702.953.1588 or acastro(at)cenegenics(dot)com.
About Ernst R. von Schwarz, MD, PhD, FESC, FACC, FSCAI
Schwarz is board certified in internal medicine by the American Board of Internal Medicine and in cardiology/cardiovascular diseases by the American Board of Internal Medicine. His primary clinical interests are end-stage heart failure, cardiac transplantation, interventional cardiology and sexual function in cardiac disease. He currently is the Medical Director of the Multidiscipplinary Heart Failure Research Program Cedars Sinai Medical Center in Los Angeles, CA and a professor of medicine at UCLA. As a clinician and scientist, Schwarz has written more than 100 articles for peer-reviewed publications and has written 10 book chapters on cardiovascular medicine.
About Cenegenics
Cenegenics® Medical Institute, recognized leading authority in age management medicine, has centers in Las Vegas, Nevada; Charleston, South Carolina; Boca Raton, Florida; Dallas/Fort Worth, Texas; Atlanta, Georgia; Chicago, Illinois; Los Angeles, California; Philadelphia, Pennsylvania; Washington, DC; New York City, NY. Additional centers are scheduled to open in other major metropolitan areas in the near future. With an established presence in the medical community, Cenegenics uses a proactive approach based on solid science and comprehensive evaluation. Their established protocols have been recognized as the next generation of medical science, capturing global attention.
Cenegenics offers CME-accredited physician training and certification opportunities in age management medicine via the nonprofit Cenegenics Education and Research Foundation (CERF). Headquartered in Las Vegas, Cenegenics serves more than 20,000 patients worldwide—2,000 are physicians and their families.
# # #